As we head into the holidays, with fears mounting around COVID-19's anticipated "second wave," it's clear that the upcoming shopping season will be quite different from any in recent memory. This means one thing: online retailers must be prepared to anticipate a sharp increase in demand. Customer self-service is the best way to ensure that no shopping cart gets abandoned this holiday season.
For both online and brick-and-mortar retailers, the holiday shopping season is one of the most important times of the year. The ongoing impact of the COVID-19 pandemic, for better or worse, has added even more pressure for retailers to succeed this year—especially knowing that brick-and-mortar retail sales this year, in the U.S. alone, are predicted to drop by 14%.
This has raised the stakes significantly for online retail to make up for these losses and has changed how both retailers and consumers are approaching the upcoming holiday shopping season. Based on the latest trends data from the National Retail Federation, 74% of retailers believe that consumers will spread out their holiday shopping across several months, making this a longer shopping season than we've seen in years past. A study conducted by Radial suggests that 39% of shoppers will begin their holiday shopping as early as October while only 30% will wait until the more traditional Black Friday-Cyber Monday shopping weekend.
Additionally, given continued fears around COVID-19, according to a consumer survey conducted by Qubit, 44% of consumers are shopping more online (vs. in 2019) this holiday season. In fact, around one in four consumers are planning to do 90% of their shopping online this year! This also comes at a time when two out of three consumers have said they've already increased their online shopping habits, with another 35% saying they're likely to do more of their shopping online, moving forward, than they had before the COVID-19 pandemic.
Table Of Content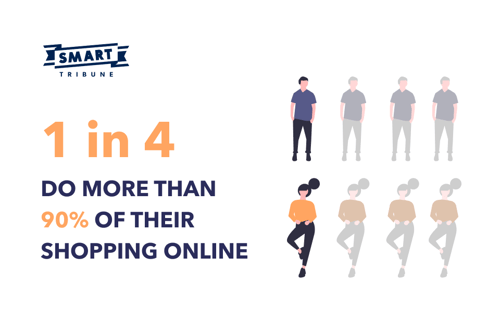 Around 25% of consumers plan to do the vast majority of their shopping online this year. Source: Christmas in July – Consumer Survey Confirms Shift in Shopping Behavior
The writing is on the wall for e-commerce retailers: there is no time to wait to prepare for this year's holiday shopping season. It's kicking off sooner and lasting longer than in years past and, given the amount of choice that consumers have online and the competition that goes into earning their loyalty, e-commerce retailers must create stellar customer experiences to ensure they stand out amongst a crowded playing field.
In this article, we will show you how customer self-service is the secret to surviving this years holiday shopping season.
Customer self-service was made for e-commerce
As a refresher, customer self-service is:
Giving customers multiple ways—from dynamic help centres to AI-powered chatbots—to get immediate answers to their questions on their own: at any time of day, on any device, and in whatever format is most comfortable or convenient for them to use. Simply put, it's a way for businesses to offer customer service that "never sleeps."
This is exactly what e-commerce retailers need. Knowing that consumers shop at any time of day—especially if you run a business with reach across multiple time zones—you may not always have the luxury of having customer service staff on-hand to answer customer questions. And even if you did, you wouldn't want to waste customer support agent time answering easy, FAQ-oriented questions that a customer could easily find elsewhere on your website.
The truth is, when customers want a response or need information, they don't want to be kept waiting. Digital media, in general, has made "instant gratification" less of a creature comfort—along Maslow's hierarchy of needs—and more of a mandatory requirement for any brand or business with a digital footprint. It has also given rise to an increasingly non-linear shopping journey: one where, according to Google, shoppers pass through sometimes endless loops of "exploration" and "evaluation" before finally making a purchase.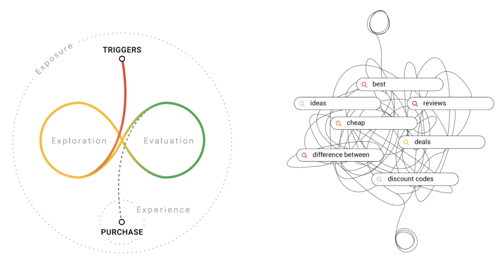 Two sides of the same coin: the consumer digital purchase decision-making process explained.
Source: Decoding Decisions: Making Sense of the Messy Middle
In essence, what happens between a consumer being triggered to make a purchase and eventually making that purchase is a complex web of searching, comparing, and price-hunting. Even more interesting is that, while searches for "free" and "cheap" were once predominant in searches in the UK, "best" has gained new momentum as a search term. This tells us that consumer comparative shopping priorities have changed significantly. No longer are consumers shopping primarily on price alone, which is potentially a result of being burned too many times by merchants selling too-cheap-to-be-true goods on various online marketplaces. They want quality and are willing to take the time to find the product or service online that, in the end, will be the best option for them.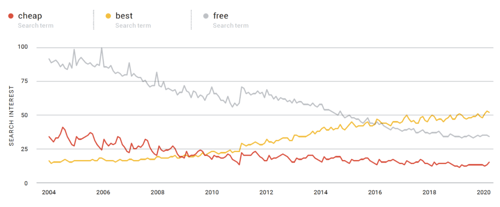 Comparative search terms in the UK reveal shift in online shopping decision-making priorities.
Source: Decoding Decisions: Making Sense of the Messy Middle
While this is in no way an attempt to take you down a rabbit hole of the psychology of shoppers today, it's a perfect example of why customer self-service is more important than ever in the end-to-end customer shopping journey. Knowing that your customers are likely going through an agonizing decision-making process before they ever hit "purchase" is an opportunity to intercept them and capture their attention before they turn their sights to your competition.
Being able to provide on-the-spot answers to your customers' questions and to surface relevant and meaningful suggestions along their shopping journey on your site is not only a proven way to move them further down the purchase funnel (on your site) but also a way to show that your business is truly interested in helping them make a smart decision.
Add to that the fact that, based on a Redpoint and Harris Poll survey, 63 per cent of consumers expect personalization as a standard of service. In other words, consumers want brands to understand who they are and to go the extra mile by anticipating their needs whenever possible. Even more, 70% of those surveyed said they would exclusively shop with retailers and brands that personally understand them during the holiday season.
3 important reasons why customer self-service can prepare e-commerce retailers for the holiday shopping season
This is why implementing web self-service solutions can either make or break your customers' experience throughout the busy holiday shopping season—and beyond. If you haven't yet brought your brand into the customer self-service age, here are a few more reasons why you should make it a priority now:
1. Customer self-service will ease the strain on your customer support team
We've said it before, and we'll say it again: because customer self-service solutions can easily deflect and automate responses to as many as 50% (or more) of level 1 requests, they free up agent time to deal with more complex or critical customer service inquiries. Questions pertaining to store hours or return policies don't require human intervention. In fact, as long as that information is consistently kept up-to-date in your knowledge base, like in our always-on Smart FAQ help centre, front-end web self-service tools can immediately surface that information in real-time to customers whenever they need it or search for it.
This is especially critical knowing that more shoppers will flock to e-commerce retailers during the upcoming holiday shopping season. As people fret about whether or not their purchases will be delivered on time—in addition to a litany of other stresses that tend to crop up during the holiday season—your customer support agents need the space to offer customers, those who really need their help, an exceptional customer service experience every time and, most importantly, in a timely manner. Not only will this help you maximise the overall impact of your customer support team, but it will also make for happier and more loyal customers.
2. Customer self-service will boost on-site conversions
In the world of customer service, knowledge is power. The same can be said for the consumer purchase journey. As noted above, consumers take a lot of steps before ever making a purchase. This can be attributed to a lot of reasons, but oftentimes it comes down to not being able to access the right information to make an informed decision.
This is where web self-service solutions, like our own SmartBot and SmartPush tools, truly shine. Think of this like on-the-spot help. These solutions give customers a frictionless way to get the information they need, while it's top-of-mind, without having to search endlessly around your site for it themselves. Based on what we've seen with our own customers, this has shown to boost on-site conversions by as much as 20%.
Even more, when customers can find the information they're looking for, they are a lot less likely to pop over to your nearest competitor's site. You simply can't risk this from happening when you know just how much choice consumers have across the e-commerce ecosystem. The more knowledge and information you can put in your customers' hands, the more likely they'll stay on your site longer and ease their way into making a purchase.
3. Customer self-service will increase customer satisfaction
This really should come as no surprise. By creating a better overall customer experience and providing customers with answers to their questions whenever and wherever they need it, they are going to be happier. It's really just as simple as that. Not to mention, this goes hand-in-hand with that incessant need for instant gratification mentioned above. But at the end of the day, when you really think about what will move the needle for your business and get customers one step closer to making a purchase, it's really all about being present and accessible at all times. Consumers don't want to jump through hoops to get answers, and as many studies over the last five years have proven over and over again, they will only pick up the phone to contact customer service as a last resort (which won't win you any customer loyalty points). This is your opportunity to be a superstar in your customers' eyes.
Not only has the COVID-19 pandemic shifted consumer shopping habits online more than ever before, but the growing prevalence of digital and social media channels over the years—now doubling as online shopping conversion experiences in addition to being sources of entertainment and communication—has made a huge impact on what consumers expect when they shop. This has seeped into the realm of brick-and-mortar as well. What we know is that today's shopper is more digitally savvy, less patient, and always in search of the "best" find. By weaving web self-service solutions into your e-commerce customer experience, you can give your customers shopping experiences they want, need, and expect. And, in turn, you'll make them happier—with their experience and likely their purchase, too.
The time is now to implement customer self-service solutions
The holiday shopping season is not around the corner anymore, it's already here. Now you know that customer self-service is the secret to surviving this years holiday shopping season, it's important for brands and online retailers to put the right solutions into place to ensure that they not only keep up with increased consumer demand—from now until the early part of next year—but also can help shoppers in real-time along the purchase journey by providing them with relevant and personalized information every step of the way. The e-commerce retailers that do this well will ultimately be the biggest winners this holiday shopping season.
What are you waiting for? Download our step by step guide on how you can launch your self-service project and get your business ready for busy shopping seasons.