According to Outsource Accelerator's survey results, 68% of companies in the United States have embraced outsourcing, with a strong emphasis on tech vendors..
The need for businesses to find a reliable long-term partner with the required expertise and capabilities to deliver excellent services is prevalent. Consequently, they often find themselves stuck in a repetitive cycle, working with vendors for short periods before transitioning to the next one.
It happens because businesses need tech solutions fast, so they cut corners when screening and hiring a partner.
But getting stuck in that cycle can cost a lot of money and time in the long run, plus the exhaustion of being stuck on a contract with a tech vendor that can't deliver. This article will explore the ten necessary steps to choose a trustworthy tech vendor.
Define Your Business Needs and Goals
Decide on a target before mapping the journey!
Choose a vendor whose solutions align with your company's objectives and can effectively support achieving your long-term business goals.
Start by identifying the current pain points in your business operations.
Here are a few of the most common ones to keep in mind:
Do your employees need help with outdated software or hardware?
Are you experiencing slow network speeds?

Do you need to improve your online presence?
Answering these will help you narrow your search for a vendor to address these issues.
It is the right moment to reflect on your aspirations for the long run. What are your future goals? Are you exploring opportunities for business growth or the introduction of new services? Choose a vendor that can scale with your company and adapt to your plans.
Another factor to consider is your budget. Understanding your financial constraints will help you select a vendor that offers solutions and services within your price range.
Remember to evaluate the total cost of ownership, which encompasses more than just the purchase price. By considering these factors, you can make a sound and beneficial decision.
Research Potential Vendors
Now that you know your business's pain points and goals, it is time to conduct thorough research.
Focus on this, as it will empower you to gather essential information, compare vendors, and decide based on thorough analysis.
Start gathering suggestions by approaching friends, colleagues, and fellow business owners in your industry, as their insights and recommendations can prove invaluable.
You can also check online reviews and industry publications to see which vendors are recommended by experts in your field.
Take notes and be analytical with any information that can give you a glimpse at the vendor's experience and reputation. Look for proven track records of delivering quality products and services.
See if they have case studies and sound, reliable references. Do they stay current with your industry's most recent technologies and trends? Are they equipped with a dedicated support team that can readily address troubleshooting needs and provides technical assistance when necessary? Then carefully check the pricing and have your legal team review the contract.
An essential factor in selecting the right tech vendor is ensuring their solutions align with your business's digital transformation goals. For instance, a vendor with a strong focus on digital adoption strategychecking vendor backgrounds can help ensure a smooth transition to new technology to help your employees adapt to new tools and processes, ultimately leading to improved productivity and efficiency. Likewise, find the right vendor with the right solutions for your company.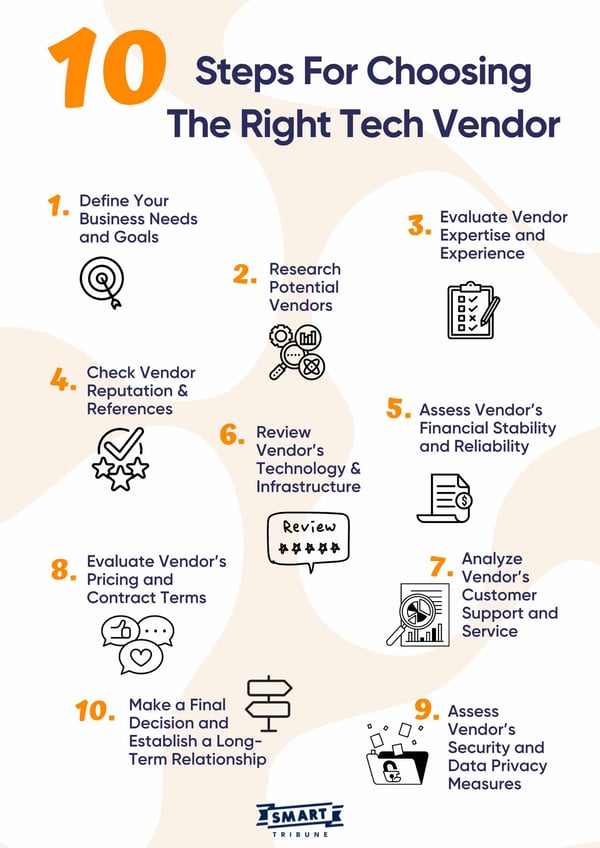 Evaluate Vendor Expertise and Experience
By now, you have streamlined your list of potential vendors. Here's how to evaluate their expertise and experience and move forward with your search.
Review the vendor's certifications and qualifications and ask specific technical questions about your business needs.
Experienced vendors charge considerably more but have encountered different business environments and challenges and know how to deliver solutions tailored to your needs. Proof of their experience can often be seen in their past projects, case studies, and client testimonials.
It's also indispensable that your vendor provides support on-demand. In the dynamic world of business today, having dependable support to rely on when challenges arise is paramount.
Lastly, the vendor should have a clear plan for addressing upgrades, technology advancements, and changes in business strategy. By having a future-proof solution and approach to technology, you can rest assured that the solution provided is sustainable and cost-effective.
Check Vendor Reputation and References
A vendor's reputation indicates the standard of their products and services. Suppose they have a history of delivering subpar solutions. In that scenario, staying informed about this matter becomes imperative, even if it requires delving deeper into the subject.
Online research is your friend when it comes to checking vendor backgrounds. Look for feedback and reviews from other businesses that have worked with your potential partner. You can also check industry forums and social media platforms to understand the vendor's reputation.
Be bold and ask for references; it's a common practice when vetting tech vendors. It will provide you with firsthand information about the vendor's ability to deliver quality solutions and their level of customer support.
For more understanding, take an additional proactive approach by contacting the vendor's references and seeking their input on their encounters with the vendor.
Independent review sites like Gartner or Forrester can objectively evaluate the vendor's products and services. These organizations consider the vendor's technology, vision, and market presence.
We understand that this step involves a lot of research and commitment, but finding a vendor with good references and a pristine reputation will be worth the time investment.
Assess Vendor's Financial Stability and Reliability
If you're wondering why assessing a vendor's financial condition is essential, consider the following:
Financial stability ensures they continually possess the resources to assist your business. They depend on financial resources to support their ongoing operations and facilitate the evolution of their products and services through innovation.
You can start by reviewing their financial statements and credit history. This step will give you a more comprehensive grasp of their financial standing and capability to meet their financial responsibilities.
You can also check if they have any outstanding litigation or debt. It can be done by checking with credit rating agencies or conducting a background check.
Now let's talk about vendor reliability. You want someone that can provide reliable solutions and support on time.
To evaluate a vendor's reliability, you can check their uptime guarantees, service-level agreements, and support contracts. Ensure that they have the resources to offer reliable support and maintenance services.
Execute these strategies, and you will secure a valuable long-term collaboration with an exceptional vendor. At the very least, these steps will help mitigate the risk of your partnership deteriorating and minimize the financial burden of transitioning to another vendor.
A reliable vendor providing quality support can improve your business's efficiency and productivity. Therefore, assessing a vendor's financial stability, reliability, technical expertise, and reputation is essential.
Review Vendor's Technology and Infrastructure
How can you ascertain if your potential partner possesses the tools to serve your business's needs effectively?
For starters, a technology vendor must have all the technology and cloud infrastructure to support your business's needs.
These factors can shape the quality of their products and services. A vendor with outdated technology or infrastructure may need the capabilities to deliver the latest solutions or cope with your business's growth.
Thus, it is advisable to perform an extensive review of the vendor's technology and verify their history of adaptability to changing circumstances. Assess the compatibility of their products and services with your business's existing systems and processes. Review their technology roadmaps and plans to ensure they align with your business's goals and objectives.
This step also includes reviewing the vendor's data security protocols and data privacy policies. Evaluate the actions taken by the vendor to secure your business's data and prevent unauthorized access or data breaches.
With the rise in cyber threats and data breaches, choosing a vendor with robust security protocols and policies will pay dividends.
Furthermore, evaluate the vendor's technical support services, installation and implementation process, and training programs.
Ask them for details about their implementation process to ensure it aligns with your business's timeline and budget. A good training program for your staff will ensure they can make the most of the vendor's products and services.
A vendor with the latest technology, robust infrastructure, and quality support services can significantly impact your business's productivity and efficiency, so make sure to get every detail you can before making a decision.
Analyze Vendor's Customer Support and Service
Customer support will make or break your experience with a vendor, directly impacting your relationship and your business's success. Securing a partner who deeply understands the importance of customer experience and consistently goes above and beyond to drive your success is imperative.
Before committing to a vendor, ask about their customer support and related services.
As you interact and get to know them, take note if they're meeting your expectations as a customer and don't have any red flags that could indicate a lack of communication or transparency. For example:
Are they available to answer your questions and address your concerns promptly?
Does the vendor have qualified and experienced technicians to provide support when necessary?
Additionally, you should evaluate the vendor's service level agreements (SLA) and maintenance agreements. SLAs and maintenance agreements outline the vendor's obligations and service commitments. Ensure that the arrangements align with your business's expectations and goals.
These agreements should include service response times, turnaround times, and problem resolution times.
You'll also find helpful information about their customer support and service quality when checking a vendor's customer feedback and testimonials; you can even go the extra mile and reach out to their current customers.
Proper evaluation of a vendor's responsiveness, technical expertise, SLAs and maintenance agreements, and customer feedback can help you choose a vendor that is a true advocate for customers. Selecting a vendor with quality customer service can enhance your business's operation and contribute to your overall success.
Evaluate Vendor's Pricing and Contract Terms
It is the ideal time to integrate your budget into the decision-making process and thoroughly assess the contract, preferably with the expertise of your legal team.
A vendor's pricing structure can significantly impact your business's budget. At the same time, their contract terms can affect the timeline and scope of your project. Before you commit, here are three things that you'll want to be clear on:
The pricing structure of the vendor should work with your resource allocation.

Review the vendor's pricing packages, fees, and charges to understand the total cost of their services.

Be wary of hidden costs, such as implementation, technical support, or maintenance fees.
Pay close attention to the contract's service-level agreements (SLAs), which define the vendor's obligations and service commitments.

Ensure that the SLAs align with your business's timeline and quality standards. Remember to clarify any ambiguous terms and conditions.
Feel free to discuss your business's needs with the vendor and evaluate their flexibility in delivering a tailored service. A vendor with transparent pricing and flexible contract terms can help your business achieve its goals efficiently and cost-effectively.
Assess Vendor's Security and Data Privacy Measures
By 2025, 45% of organizations worldwide will have experienced attacks on their software supply chain, according to Gartner.
A data breach can lead to costly outcomes, including legal complications, diminished customer confidence, and a tarnished reputation for your business. It is recommended to avoid these elements.
First, you should analyze the vendor's security protocols and infrastructure. Ensure they have adequate measures to prevent unauthorized access to your sensitive information.
Ask about their authentication methods, firewalls, intrusion detection systems, and encryption protocols. Additionally, evaluate their disaster recovery strategies, such as backups and redundancies, in case of a system failure or attack.
The next course of action entails examining whether the vendor aligns with industry standards and regulations.
For example, suppose your business falls within the healthcare industry; you can learn about the vendor's HIPAA compliance by looking at their websites or contacting them directly. If you are in finance, ensure the vendor complies with the Payment Card Industry Data Security Standard (PCI DSS).
Another way is obtaining independent audits and certifications, including the ISO 27001 certificate issued by the International Organization for Standardization (ISO), which allows you to gather valuable details regarding the vendor's adherence to comprehensive information security standards.
Finally, assess the vendor's data privacy policies and practices. Ensure they comply with your business's privacy policies and local and international data privacy regulations. Review their data sharing and retention policies and validate that they align with your business's security and privacy expectations.
Assessing a tech vendor's security and data privacy measures is vital in protecting your business's confidential information. Ensure the vendor possesses sufficient security measures, adheres to industry standards and regulations, and maintains rigorous data privacy policies and practices.
Working with a vendor with robust security and data privacy measures can help your business avoid costly breaches and safeguard your reputation.
Make a Final Decision and Establish a Long-Term Relationship
We've covered a lot of information, and it's now the moment to make a decisive move.
In making the final decision, engaging all stakeholders, such as the IT department, legal team, and business management, is vital to facilitate collective agreement and coherence.
It is vital to thoroughly comprehend and agree on the particulars, including deliverables, timelines, expected results, and performance metrics. Doing this will avoid any potential discrepancies or conflicts down the line.
Finally, go through a detailed process when hiring a tech vendor to increase the chances of building a long-term relationship based on mutual trust, transparency, and collaboration.
Searching for the appropriate vendor for your business can consume considerable time, and business leaders wish to refrain from engaging in this repetitive cycle every few months.
A productive relationship will enable you to leverage the vendor's deep knowledge and proficiency in providing cutting-edge technology solutions, equipping your business with a competitive advantage.
Building a successful long-term relationship requires proactive communication, timely feedback, and performance evaluation that can help you gauge the vendor's effectiveness in meeting your business's requirements. It will also help you identify areas where the vendor can improve and provide feedback that can help them enhance their service delivery.
Conclusion
These were our ten steps for choosing the right tech vendor for your company! We've covered plenty of details to boost your chances of finding a great vendor in a reasonable time frame.
While undertaking extensive research and maintaining meticulous records may appear daunting, attentively navigating through each step will guarantee access to essential information, preventing potential time and financial losses.
So, do you have any insights or experiences with hiring tech vendors? We'd love to hear from you. Moreover, if you encounter individuals needing guidance in selecting a suitable vendor for their business, do not hesitate to pass along this article.