6

benefits

of chatbots and why this really matters to your business
If you're reading this article, you've probably heard people talking about these things called chatbots—and might be wondering about the role they could play in taking your business's digital customer experience to the next level. Fortunately, you've come to the right place.
True, chatbots aren't necessarily the newest and shiniest objects in the world of customer experience. They've been around for a while now—at least, in terms of tech years—and, over time, have become incredibly sophisticated. This has allowed them to move way beyond their original "role" as digital conversational assistants alone. Today, as tried-and-true customer self-service solutions, they not only empower your customers to be more autonomous along their journey with your brand—whether it's for finding information or getting help—but they can be a valuable and cost-effective extension of your customer service strategies, too.
That being said, there's probably a lot more a conversational chatbot can do for your business than you're even aware of. So in this article, we'll take a closer look at what problems chatbots solve and why there's no better time than now to consider implementing a chatbot.
Chatbots are on the rise
The top priority for (pretty much) every business today is to find ways of improving the end-to-end customer experience. Why? Because this is the key to boosting customer satisfaction and creating a more solid foundation for long-term customer loyalty.
And with so much customer engagement with brands now taking place somewhere in the digital world—especially on a brand's or business's website—it's more important than ever for companies to pinpoint all of the ways that they can close the gap between them and their customers. Customer service chatbots have quickly become one way to do just that.
This comes at a time when nearly 40% of internet users worldwide prefer interacting with chatbots (versus virtual agents) across various industries and business sectors. This should come as good news because it has also been estimated that chatbots could save businesses in the retail, healthcare, and banking sectors $11B by 2023 simply by automating up to 73% of simple administrative tasks and supporting consumers to make seamless transactions.
On top of that, they can serve as a support system for your customer service employees because they are able to tackle simple questions and tasks that don't require a human agent. This can free up your support staff to stay focused on more complex or complicated customer issues, which is, generally speaking, better use of their time and expertise.
Even more, should a customer request come through doing non-business hours—you know, when your customer service agents have gone home for the day—a chatbot can field the question in an agent's absence and, in most cases, address it without any problems. In the rare instance that the customer query is too complicated for a chatbot to handle on its own, it can escalate it up to an agent to tackle the next business day. So in this way, chatbots can give your customer service agents "air cover" when they're off-the-clock, which means you may not need to invest as many resources, if any, into staffing a 24/7 contact centre.
Chatbots can improve the customer experience
All of the reasons above make it clear why support chatbots are quickly becoming essential assets for any business—whether they use them to enhance the customer service experience or make it easier for customers to transact at various steps along the path to purchase. But the most important reason why every business should invest in a chatbot is that today's digitally-savvy consumers like to be as autonomous as possible in the hunt for information.
In other words, if they're able to get something done with a chatbot that otherwise would require them to call in or send an email to a customer service agent or, in the worst-case scenario, scour a business's website high and low to no avail, they'd choose the chatbot technology any day. It's a question of speed, convenience, and efficiency. And knowing that today's consumers have higher expectations—and less patience—than ever before, it's absolutely critical for companies to implement solutions that can improve the customer experience at every step of the way. This is the key to earning real-time customer satisfaction and winning long-term customer loyalty.
By 2024, consumer retail spending via chatbots worldwide will reach $142 billion—up from just $2.8 billion in 2019.

— Source: Insider Intelligence
6 great things chatbots can do for your business
Now that we've given you a brief overview of why chatbots can make a marked impact on the customer experience—and in many ways, help your business run more efficiently—it's time to look at the different ways you can actually put intelligent chatbots, like our very own Smart Bot, to work hard for you.
Here is a non-exhaustive list of some of the ways that chatbots can benefit your business:
1. Improve the effectiveness of customer service teams
Let's start with the easy one. Chatbots are, first and foremost, customer self-service solutions. This basically means that they are there to help customers find information, learn about products and services, and get answers to simple questions on the fly. This is because smart chatbots use a combination of powerful artificial intelligence (AI) and machine learning to not only make sense of a brand's knowledge base—in order to offer up the most relevant answer to a customer's query—but also to learn how to respond more accurately over time.

As mentioned above, because chatbots are perfectly tuned to answer up to 70% (or more) of simple, FAQ-related questions, they can reduce the number of requests to the customer service team, which, in turn, gives agents more time back to focus on complex customer needs. The end result is both happier customers, who are able to get their questions answered or issues resolved quickly and efficiently, as well as more effective and productive customer service teams that are no longer bogged down by requests that don't really require their involvement.
> Pro-Tip: As your business—and customer base—grows, it can be hard to keep up with increasing demand. Much less from increasingly demanding customers. Because chatbots can be trained to respond to the vast majority of customer questions, requests, transactions, or issues in an automated yet highly accurate way, they can help you scale your customer support efforts and, more importantly, focus more attention on continued business growth.
2. Reduce the potential for human error
Continuing on the theme of customer service, one thing is clear: When humans are involved in anything, there is always room for error. This doesn't mean it'll be a catastrophic error, but sometimes customer service agents—or even a subset of the team—aren't always equipped with the same or the most up-to-date information. As a result, the information that gets passed back to customers might not necessarily be consistent, which is especially a problem if a customer has to engage with a number of different agents to resolve an issue.
The sharing of inconsistent information can lead to a negative customer experience, even if the agents truly believed they were relaying the correct information over the course of the customer interaction. But again, without the proper checks and balances in place to ensure that all agents have uniform access to the same information—for example, with the help of Smart Knowledge—things can easily slip through the cracks.
With chatbots, however, this isn't an issue. Why? Because they are pre-programmed from the very start to pull from the latest and greatest information within your knowledge base. In other words, the minute that information has been updated on the back-end, the chatbots can automatically surface it to customers whenever they reach out for help. Not only does this lead to more efficient customer interactions—with quicker time to resolution—but it also ensures that the information being shared out is accurate and up-to-date in real-time.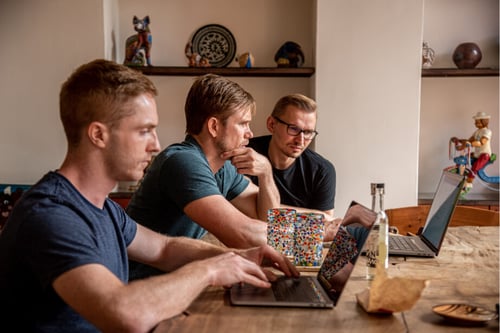 3. Collect candid and meaningful customer feedback
Providing feedback isn't always easy—much less when you have to do it face-to-face or over the phone. Some people simply get uncomfortable in those situations. With chatbots, however, whether at the end of a customer service interaction or some other transaction, customers can be prompted with short surveys or questionnaires—with a simple question akin to, "Did you find the answer we provided to be useful?"—to give their open and honest feedback.
This is a great way to get a pulse on the effectiveness and accuracy of the information being shared with customers just as much as it's an opportunity, should the feedback be negative, to invite customers to provide open-ended input without any kind of confrontation or backlash. That's why chatbots can be an incredibly effective asset for gleaning real-time insights around general customer sentiment that you, as a business, can take action on immediately.
But we can't stress that last point enough: If you ask customers to provide feedback, be sure to look at the results and, if it requires some sort of action, do something about it. At the end of the day, customers want to know that their voices are heard. If they take the time, even if it's just for a few seconds, to share their input, they expect you to listen and take it to heart.
4. Guide customers along the path to purchase
Not all websites are created equal. Some are simple and easy to navigate, while others can unwittingly take you down a rabbit hole. Whatever the case may be for your business's website, chatbots can act as digital assistants, helping to ensure that customers don't stray off the path to purchase. For example, they can be programmed to know when visitors to your website are about to bounce, so they can surface a proactive yet helpful message that offers advice or other contextually-relevant information (based on the page they're on) to keep them on their journey. Not only does this minimise any frustration that a customer may encounter when attempting to navigate your website, but it also can boost on-site conversion in a big way.
5. Turns leads into sales (aka, boost conversion)
Speaking of conversion, what you may not know is customer self-service solutions, like chatbots, can increase conversion rates on your website by up to 20%. Essentially, by helping customers become more autonomous and supported at every point along the customer journey, chatbots can help new and returning customers alike get closer to making a purchase.
This is important for a number of reasons. First, higher conversions typically lead to higher sales—which is pretty much what every business wants to achieve.
Second, you know how hard it can be to turn those first-time visitors to your site (aka "leads") into real, paying customers. In this capacity, chatbots can serve as an extra line of defence to incentivise those new visitors to stay on your site longer. And what we've typically seen is that the longer customers stay on a site, the more likely they are to take some sort of action. So while you may already be pulling different levers to convert leads into customers, consider adding chatbots to the mix: They offer a relatively simple, automated, and highly scalable way to amplify your other customer acquisition efforts and boost on-site conversions.
6. Build stronger customer relationships
The quickest way to a customer's heart these days—at least, as it would seem—is to be accessible and responsive whenever they need you most. Unfortunately, for many businesses, it doesn't make sense to staff a 24/7 customer support team just to ensure that those customer questions or requests that happen in the middle of the night get addressed by a live agent. This is where chatbots can really make a positive impact. Because they can operate around the clock without ever needing breaks or naps, they can easily assist customers at any time of the day—even when your customer support team is off the clock.
Even better, thanks to advancements in machine learning and natural language processing, chatbots today can engage with customers in a near-lifelike way, sometimes without customers even realising that they're talking to a bot and not an actual person. The benefit here is that they can help (start to) build more positive customer relationships simply by being available to educate customers about your brand and guide them through the customer journey. Doing so will undoubtedly lead to happier, more loyal, and more satisfied customers.
Create a better customer experience with chatbots
Although you may have already known a little bit about what chatbots could potentially do for your business, we're pretty sure you didn't realise just how much they can actually do.
Whether used as an extension of your customer service efforts or to create a better, more personalised digital customer experience—or any of the other reasons discussed above—chatbots are quickly becoming more critical than ever, especially in the face of increasing customer expectations and greater competition on the playing field of customer experience. If you haven't invested in one for your business yet, it's about time you did.
(And if you don't know where to start, the team at Smart Tribune is here to help!)
Check out our 2022 Customer Experience Trends Report to learn more about how chatbots and other customer self-service solutions can transform your business (for the better).