Love stories sometimes have unhappy endings, but the one between users and chatbots seems to be for the long term. The most recent Botnation study confirms it: chatbots are really popular and the numbers don't lie.
One of the chatbot statistics shows that 59% of French consumers appreciate being able to ask questions to a chatbot. But why do they like exchanging with these conversational agents? Are there any points of friction to improve?
Find all our answers below, supported by a BotNation study which surveyed 1,984 professionals and 2,041 consumers in April 2021.
Table Of Content
Chatbots: The 3 preferred benefits for users
Is the chatbot a perfect tool? Or a perfectible one?
Chatbots & customer service: What future to predict?`
Chatbots: The 3 preferred benefits for users
Brands that invest in a customer service chatbot solution quickly see benefits for users and for customer service. Between the automation of customer service, instantaneity of responses 24/7, improvement of customer knowledge…the reasons to trust a smart conversational agent are numerous.
But why do user like speaking with chatbot? What are the main reasons that lead them to prefer this channel of interaction? We've identified three:
Chatbots are reactive customer service tools
To answer the question of how chatbot can help your business, 89% of consumers appreciate customer service chatbots for their quick responses. In just a few seconds, a user can get an instant response to customer questions, no matter how solicited the support services are. The customer is no longer dependent on the opening and closing times of your customer support service in order to get assistance and information.
This type of fast, digital interaction enhances a feeling of autonomy/ According to Forrester, 72% of consumers prefer finding answers themselves without having to call customer support services. And self-service tools respond perfectly to this customer need!
Chatbots avoid the issue of long wait times until a customer service agent is available
For 75% of customers, the customer service chatbot is the ideal solution for not having to wait until a customer service human agent is available. Interacting via a computer allows customers to avoid long wait times on the phone…and this time saving is a symbol of successful customer service!
For companies, it's also a benefit: Thanks to self-service solutions, customer service agents can dedicate themselves to complex requests that really require human intervention (advice about a product or service, a damaged delivery, a bank loan, etc.).
The treatment of simple and frequent queries (called "Level 1 requests," like what to do if you forgot your password) can be automated by a conversational agent, for your customers' delight.
The analysis of questions processed by the chatbot allows qualified redirects to the correct agent
According to the BotNation study, 51% of consumers appreciate that the analysis of their question can lead to an adapted redirection to the right agent or department. Basically, the chatbot is a means to avoiding endless holds and reconnections with customer service. And then needing to press 2, then 3, then 1 through a never-ending SVI.
Thanks to the chatbot, each online and mobile user can ask a precise question and get a quick answer adapted to their request on both website and social media sites. This response can orient them to a dynamic FAQ or an online knowledge base, but it can also link them to a human agent (livechat or phone) thanks to a contact ladder. And that's highly appreciated when human interaction is needed for customer interaction and customer engagement! If you are undecided when to use dynamic FAQ or chatbot, check out our article The Best Customer Self-Service Channel: Dynamic FAQ or Chatbot?
I

s the chatbot a perfect tool? Or a perfectible one?
T

he necessity of optimizing your chatbot on an ongoing basis
If the chatbot has conquered the hearts of French consumers and companies, it can still be perfected. As much for its functionalities as for its usage, 84% of consumers and 74% of professionals think that this customer self-care solution can still be improved.
For 72% of those surveyed, the impossibility of responding to certain expectations or questions is a major obstacle. Similarly, when the chatbot doesn't understand the question, the frustration rate increases to 84% of respondents. Incomprehension represents the main obstacle to the use of an AI bot.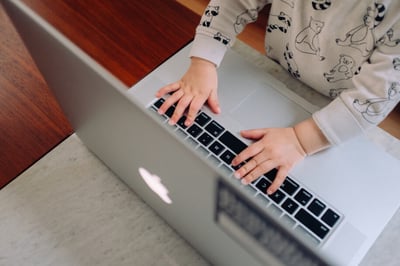 But why?
The most advanced chatbots integrate artificial intelligence and Natural Language Processing (NLP), which provides the ability to analyze, understand and respond to customer requests. However, a chatbot needs to be trained once launched to help it analyze the first user requests throughout the phase of machine learning. As time goes on, the more it's trained, the better performing it will be, and it will be better able to exhaustively treat customer requests.
It's essential to understand that a robot learns and improves with time. The robot gets fed by user questions, which then need to be analyzed internally to ensure continued improvement. It is therefore essential to set up phases of optimization and improvement throughout the chatbot's lifetime.
The importance of giving your chatbot a personality
Moreover, 63% of customers don't appreciate the coldness of chatbots and soulless interactions when it comes to customer support. To prove continued improvement on the subject, we're convinced that a chatbot needs to have a personality that corresponds to the brand image. To humanize the relationship, think about giving your chatbot a name, an avatar or photo of a real person, and specific tone of voice, etc.
Whatever method you opt for in giving your customer self-service tool a personality, the most important thing is to maintain coherence with your brand image, values and style of communication. Nevertheless, a sense of humor is not necessarily recommended in customer service... You need to find the right balance and that depends a lot on your customer personas.
Using NLP to ensure continued improvement of your chatbot
To facilitate the optimization of the bots, one of the keys is to bet on NLP, which echoes natural language understanding.
This process allows for the comprehension and treatment of user requests in an overall context. The responses delivered are therefore more coherent and relevant. Thanks to machine learning and conversational AI, chatbots improve their skills to streamline exchanges. Each conversation enables self-learning, the anticipation of behavior and the retranscription of responses to be as natural as possible.
To enrich the exchanges, we advise you to also integrate redirection behaviors. For example, in order to respond as efficiently as possible to a request, don't hesitate to send users to complementary online content (like a dynamic FAQ) or a customer service agent for more complex requests.
But be careful: 56% of chatbot users hate being passed off to an agent to continue the conversation. Always leave the customer a choice, which is indispensable in boosting customer satisfaction.
Chatbots & customer service: What future to predict?
Thanks to chatbot technology, customer relations are being digitised. And in the era of digital transformation, digital tools are not necessarily synonyms of distance and mistrust.
As proven, chatbots bring consumers closer to customer service, with the advantage of instantaneity. They also allow you to build a relationship of trust. According to the BotNation study, 51% of French consumers trust AI chatbot to bring quick and precise responses to their requests, when they're simple.
Contrary to what one might think, the perception of digital tools is evolving favourably. In the future, this feeling of trust in tools (developed by and for humans) will endure.
In parallel, we must admit that AI powered chatbot has not been developed to replace customer agents or HtoH (human to human) advising. Customer support solution enable the unclogging of customer services and reduce the rate of contact.
Despite their growing need for autonomy, consumers remained attached to human interaction. In post-Covid times, let's wait and see how this expectation grows. In the meantime, about 67% of consumers prefer to be connected to an agent in order to resolve a complex problem. In the future, the chatbot industry will be more powerful because it will be essential to leave customers the choice of interacting with bots or not and to find the right balance between automation and a human touch.
The chatbot is a customer self-service solution that's making its mark and conquering hearts…and it's enchanting customer relations and the user experience!
For companies and consumer alike, the growing of self-service tools as well as chatbot platform use predicts good things for the future. By ensuring continued improvement, conversational AI chatbot enables the resolution of simple problems, quickly and efficiently. Want to learn more about chatbot service and to start your own project?