Businesses are all wondering how they can do more with less, serving customers at scale while keeping costs to a minimum.
Fortunately, there's an answer: chatbots.
These automated, highly interactive conversational tools have redefined customer service in the digital era. Roughly 40% of Millennials communicate with chatbots daily, while the global chatbot market will be worth an estimated $1.25BN by 2025.
Chatbots are so valuable because they significantly enhance the customer experience. Companies can offer around-the-clock customer support, provide personalized recommendations, automate simple tasks and transactions, and reduce their overall enquiry volume.
Better still, chatbots can even increase conversions. 90% of consumers are more likely to do business with companies that respond immediately, while responding to a lead within 5 minutes increases conversion rates by up to 100X. Businesses that implement chatbots respond immediately, automatically, all the time—impressing prospects and converting more customers.
Chatbots will play a key role in the future of Ecommerce. Today's consumers expect omnipresent, omnichannel communication with brands. They increasingly want to self-serve, while 47% of consumers say they would happily buy items via a chatbot.
Let's explore this topic in more detail, analyzing the 5 reasons why your business needs an Ecommerce chatbot.
Table of content:
Ecommerce chatbots provide personal recommendations
Consumers expect personalization everywhere they turn. Today's largest, most well-loved brands all rely on personalization: Amazon, Netflix, Facebook, Instagram, etc. When done well, personalization transforms retention rates—consider the fact that 80% of consumers are more likely to make a purchase from a brand that provides personalized experiences.
So, where do chatbots come in?
Chatbots can provide personalized recommendations to consumers at scale, drawing on behavioral data as well as any interactions they've had with the customer in question. For example, if a customer has previously looked at your discount couches and asks a chatbot whether your couches come flatpack or fully-made, it's pretty obvious what they're looking for.
But while personalization is ever-present nowadays, it's still highly effective. Done right, it can make customers feel like they're the only person in the world that your company cares about pleasing—even if you're a multinational behemoth.
As Peter Schwartz, Senior Vice President of Strategic Planning at Salesforce, puts it: "Imagine, for example, the impact of a hotel chain's voice assistant greeting a returning customer with a warm welcome, before alerting them to the fact that the room temperature has been set to their preferred temperature, their favourite playlist uploaded, and the TV tuned to their most-watched channel."
Ecommerce chatbots drive sales and conversion rates
Chatbots allow businesses to instantly engage prospects that visit their website. This plays a key role in driving conversions, with chatbot eCommerce transactions projected to be worth $112BN by 2023.
Chatbots can ask visitors what they're looking for, redirect them to the appropriate pages, and answer any ongoing questions they might have. Just as department stores employ beaming, energetic assistants, so chatbots can provide this same level of customer experience.
Only, they're even more valuable. They work 24/7, can serve thousands of consumers at once, and don't need to be constantly fueled by coffee.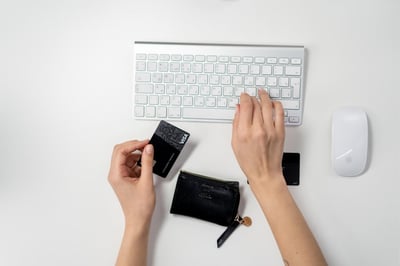 Ecommerce chatbots significantly improve the customer experience
This is hardly surprising. We've already explained that chatbots provide valuable, personalized recommendations that drive sales and boost conversion rates. So they must be significantly enhancing the customer experience, right?
Of course—but don't just take our word for it.
Research shows that 80% of consumers who have engaged with a chatbot report it as a positive customer experience, while 79% of consumers expect businesses to provide self-service support tools. Nowadays, chatbots aren't merely a nice-to-have—they're an expectation.
They function as an Ecommerce business's first point of contact, providing instant conversational support that plays a key role in guiding the rest of the customer experience. Chatbots can provide contact escalation via a dynamic FAQ if necessary or redirect consumers to a service agent if they have unique questions/queries that the chatbot can't solve.
Ecommerce chatbots can provide instant customer service and reduce costs
All businesses yearn for increased efficiency with reduced costs. Fortunately, with today's technology, that's not as hard as you might think.
Consider the customer service department. It plays a crucial role in supporting the organization, assisting customers with queries and providing a smooth buying experience. By implementing chatbots, companies can boost customer service productivity while keeping salaried expenditure to a minimum.
Chatbots provide instant, 24/7 support, helping consumers gain quick answers to their burning questions—or escalating the conversation to a live chat. They're so effective that they will save businesses an estimated 2.5BN hours by 2023 and up to $11BN in customer service expenses by 2025.
Take Smart Tribune's AI-powered Smart Bot, for example. It integrates directly with a range of third-party apps, including CRMs and ticketing systems, to provide customers with personalized, relevant, and helpful support.
Better still, it uses advanced artificial intelligence and machine learning to recognize when requests need to be escalated—whether to a knowledge base or to a knowledgeable support agent. When support agents do enter the chat, they'll know exactly what the customer is looking for thanks to the chatbot's interaction with the customer.
Ecommerce chatbots can help with lead generation
55% of businesses that use chatbots generate more high-quality leads. By speaking to prospects that visit your website, chatbots engage in conversational marketing, gaining key insights that can aid retargeting efforts going forward. For example, customers might share information regarding their clothes size, their business's annual tech spend, or what they're looking for in a new phone.
Once Ecommerce companies have these insights to hand, they can better understand what their consumers are looking for—and how they can help. This fuels more welcome, more effective retargeting efforts.
Chat is cheap—it's time for action
Chatbots are here to stay for the long run. They improve internal efficiency, enhance the customer experience, and result in greater sales. To dig deeper into what chatbots are and how they can help your business, check out The Definitive Guide to Chatbots (2021).