Tips for developing a seamless omnichannel strategy that drives real impact
Customers today are digital natives at their very core. Oftentimes, they'll engage with your brand across several different channels—from your website to social media, on both desktop and mobile—before ever making a purchase. And they do this without even thinking twice. This is the very essence of what it means to provide an omnichannel customer experience.
The biggest advantage of deploying a multichannel strategy is simple: It gives your customers plenty of choice—and convenience—to engage with your brand on the channels or platforms best suited for them. Unfortunately, more choice along the customer journey can sometimes lead to kinks along the path to purchase. After all, if any one of your channels isn't up to snuff, it can quickly impact conversion, sales, customer loyalty, and even your brand's reputation in a negative way. But no brand should ever risk falling into that trap.
In this article, we'll go over what it takes to implement an omnichannel approach around your brand's customer engagement and customer acquisition strategies. We'll explain what an omnichannel customer experience looks like, why it matters to your business, and how you can build a successful multichannel marketing strategy, beginning today, that will drive long-term value—for both your brand and your customers.
What is an omnichannel customer experience?
Simply put, an omnichannel customer experience is one where a brand's presence extends across a variety of digital and traditional touchpoints, including desktop, mobile, social media, in-store, and beyond. But it's not simply about replicating a single brand experience across all channels; quite to the contrary, it's more so about adapting your brand to address customer needs and expectations on each channel. For this reason, creating an omnichannel customer experience is oftentimes more nuanced and complex than it might seem to be on the surface.
For years, people had believed that the customer experience would swing in the 'all-digital, all-automated' direction by now. However, in spite of the fact that customers today are more digitally savvy than ever before, there's still a need to strike a well-orchestrated balance between a brand's offline and online customer experiences.
In fact, this cross-channel synchronisation of the customer experience, when done well, is one of the biggest advantages of taking an omnichannel approach for enriching your customer engagement and customer acquisition strategies. Indeed, all aspects of your brand must work together seamlessly to create a unified customer experience from discovery to conversion.

The difference between an omnichannel and multichannel customer experience
We already know that an omnichannel experience is one where all brand touchpoints, across all channels, work in harmony to create a consistent and cohesive brand experience at every step along the path to purchase. But you may be wondering, how does this differ from a multichannel customer experience?
Although both terms are now all too often used synonymously, answering this question comes down to one thing: Understanding the level of synchronization that exists across all channels.
A multichannel customer experience differs from an omnichannel approach in that each channel lives, essentially, in its own silo. While the customer experience may extend across multiple channels in this scenario, the channels aren't necessarily communicating with each other in lockstep. Each channel operates as its own independent brand touchpoint.
On the other hand, in an omnichannel customer experience, all channels are unified under a single, prevailing strategy to make the customer journey more adaptable and asynchronous. In other words, instead of simply letting customers bounce around between the different channels your brand uses, in an omnichannel strategy, the channels themselves support customers along their path to purchase as well as in their customer service interactions. It's a smarter and, generally speaking, more proactive way to turn customer experience into customer success.
The advantages of an omnichannel customer experience for customers
Customers increasingly want to be autonomous across the customer journey, with 72% preferring to find solutions on their own before reaching out to a live agent. However, when it comes to answering urgent or complex questions, those that FAQs and other automated customer self-service solutions might not be able to handle on their own, speaking with customer service agents—via phone, email, or chat—still remain the preferred point of contact.
Therefore, when building an omnichannel strategy, the question shouldn't be 'analog versus digital' but rather 'analog and digital.' This is the key to ensuring that customers not only feel supported across all channels but also have different ways of finding information, asking questions, getting help, or making purchases within those channels. Basically, it's about removing the roadblocks that could throw a wrench into conversion—or customer happiness.
A lot can happen throughout the customer journey. But one thing continues to hold true: If customers can't find the information they need—or get help when they've exhausted all of their options on their own—about 91% of them have said they won't return. Even worse, they'll likely seek out the products or services of your nearest competitor. This is a risk that no brand should be willing to take, especially when it can so easily be avoided with the right strategies in place.
That's why customer satisfaction across the omnichannel customer experience must remain your top priority. From a customer's perspective, a customer's journey with a brand should be:
Omnichannel shopping has increased by 50% this year, with nearly half leading to e-commerce purchases.

-Source: Annual Marketing Report 2020 (Nielsen)

The advantages of an omnichannel customer experience for brands
While it almost goes without saying that providing a seamless omnichannel journey is designed specifically with your customers' interests in mind, there's a lot of long-term good that an omnichannel approach can offer businesses in return.
For starters, the happier and more satisfied that your customers are with every interaction they have with your brand—across all channels, platforms, and marketing touchpoints—they're more likely to make purchases. And when you do the math, more purchases basically equate to business growth. Plus, it's also a great strategy to increase customer lifetime value (LTV).
We saw this play out quite a bit throughout the COVID-19 pandemic, especially with the rise of 'click and collect' services (i.e. a new channel along the customer journey). To avoid the sting caused by lockdowns and other strict safety measures that virtually made it impossible to go about 'business as usual,' businesses had to get creative with how they supported customers across all channels. 'Click and collect' is a good example of a strong omnichannel customer experience strategy in action because of its seamless intermingling of online, mobile, and in-store to give customers a way to continue making purchases safely.
And while removing the roadblocks to purchase, for obvious reasons, is one of the most important reasons for deploying an omnichannel strategy—whether during a pandemic or under normal business conditions—there are a number of other reasons why businesses must remain committed to delivering a unified and seamless customer experience across all channels, including:
Customer Engagement: Offering customers multiple ways to engage with your brand or get help when they need it has been shown to boost engagement by 18.96%, compared to a meager 5.4% increase for brands only offering single-channel support.
Purchase Frequency: Brands that provide a seamless way for customers to purchase across multiple channels—or continue purchases asynchronously from one channel to another—can increase purchase frequency by 250%.

Average Order Value (AOV): Omnichannel marketing automation has also made it possible for brands to drive up shopping cart value by 13%. After all, when brands surprise and delight customers throughout the path to purchase, it gives shoppers more reasons to make the most out of that shopping experience.
Customer Retention: Churn is a constant pain point for any brand. Those providing a strong omnichannel approach have been able to increase customer retention by 90%.
"Customers expect the same brand experience, quality, price, and service regardless of channel, and it is that connectivity and seamless experience across channels that is the real differentiator."

— Source: 'Customers are Calling the Shots' (PwC)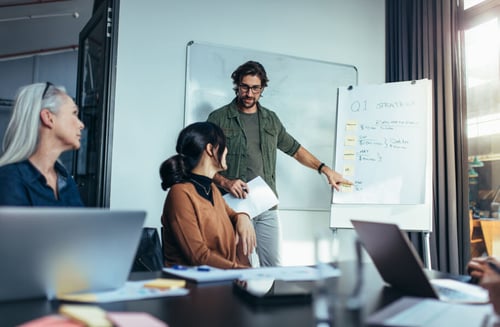 How to create a successful omnichannel customer experience
By now, the benefits of having an omnichannel strategy in place should be clear. Now, it's just a matter of making sure you can deliver on it. Here are a few tips for building an omnichannel customer experience that really works:
1. Map the customer journey
No two brands are alike, nor are the journeys that their respective customers take when engaging with them. That's why, before putting any fancy digital (or otherwise) solutions into play, you need to understand how your customers interact with your brand—as well as where there's friction along the path to purchase that causes them to bounce. Fortunately, conversion data doesn't lie; you just have to seek it out and then actually learn from it. You may learn that something seeming as little as the size or colour of a checkout button can spell the difference between a customer making a purchase versus a shopping cart being abandoned. So, take the time early on to understand how your customers engage with your brand across all channels.
2. Invest in the right solutions
Once you've identified what customer engagement looks like on a channel-by-channel basis, it's time to optimise the experience by putting various tools and solutions in place to make those channels sing. This is where intelligent, AI-powered customer self-service solutions can really make a difference. Not only do they empower customers to be more autonomous and self-sufficient across the customer journey, but they also eliminate the roadblocks—and frustrations—of not being able to find the right information or get help when they need it most.
In addition to being 'always-on,' customer self-service solutions can reduce contact rates by up to 50% by being able to automate responses to up to 70% of a brand's most frequently asked questions, those that typically do not require human intervention to be answered. On top of that, it has been estimated that, by 2025, chatbots will power 95% of customer interactions.
But they aren't there just to provide customer service support. Many chatbots, becoming more advanced and intelligent thanks to advances in artificial intelligence and machine learning, will be capable of helping customers with their transactions—from checking whether an item is in stock to opening a bank account to purchasing airline tickets. They can also learn, by training themselves over time, how to better understand a customer's intent and solve more complex customer issues based on past customer interactions.
And while these solutions are not intended to be a replacement for living and breathing customer service agents, they can certainly help optimise the customer experience to ensure that customers have access to the right information, resources, and help whenever they need it.
3. Involve your stakeholders
Building a strategy for your omnichannel customer experience can't live in a silo. All parts of a business that touch the customer experience in any way must be committed to deploying that unified strategy across all touchpoints. This doesn't simply mean getting executive buy-in, although that's important, too. You need everyone—really, everyone—involved to ensure that no stone is left unturned. Whether customer service, product development, or marketing (and everything else in between), any department that manages a customer-facing channel must have a clear understanding of what role it plays, as a part of the broader omnichannel strategy, to create customer experiences that drive long-term business value.
4. Embrace customer feedback
While data can tell us a lot about where there are kinks in the end-to-end customer experience, there's nothing more valuable than feedback from customers themselves. From inviting customers to stay on the line and chime in with input at the end of customer service calls (with live agents) to asking customers to rate their conversation with a chatbot before closing out the conversation, there are myriad ways for you to get a real-time pulse on how customers think you're doing as a brand. And that feedback is worth its weight in gold.
But here's the hitch: You can't just collect that feedback; you have to take action on it. Obviously, it's impossible to make all customers happy at all times. There will always be those unique 'outlier' cases of disgruntled customers that are far too isolated to force your customer experience into a different direction. But customer feedback can be telling, especially when you start to see trends or common themes emerge. So, listen to it. Because when you do, your customers will notice and, as a result, will love your brand even more.
Real-life examples of great omnichannel experiences
Although the concept of omnichannel customer experience isn't a new idea, there are certainly some brands that are more successful at it than others. Here are a few brands that have truly embraced the meaning of an omnichannel approach to customer engagement:
1. Virgin Atlantic
Virgin Atlantic has led the way in providing seamless customer service across its various channels for many years now. For starters, the beloved British airline offers personalised services with live agents across different channels to provide personable, customised assistance whenever customers need help before, during, and after their journeys. This includes allowing customers to ring specific customer service agents directly—especially if it's in follow-up to an existing customer service enquiry—versus calling into a central call centre and having to restart the customer service process with a new agent all over again. And should the need arise, live agents can reach out to customers directly. At the end of the day, it's all about reassuring customers that they are being looked after, a personalised touch that can go a long way when customers are faced with a flurry of unexpected travel nightmares.
2. Starbucks
The Starbucks Rewards app is a fantastic example of an omnichannel shopping experience. By using their digital reward card (within the app) whenever making a purchase, they can earn points that can be redeemed for discounts and other perks in the future. Customers can also top up their cards with more funds—online, in-app, in-store, and even over the phone in real-time—and use their cards to pay for both in-store and online purchases. There are truly few rewards programs that operate in such a purely omnichannel functionality as Starbucks.'
3. Sephora
Enhanced in-person shopping isn't a new concept. And although many companies have experimented with this idea, few have managed to perfect it as well as Sephora. With the help of in-store tablets, Sephora customers are able to bridge the online-offline divide by being able to access their 'Beauty Bag' accounts while enjoying the in-store shopping experience. On top of that, the app uses augmented reality (AR) to let customers 'test out' cosmetics products before adding them to their shopping carts. This is a great example of real-time synchronisation between the in-store and online shopping experiences working in perfect harmony.
Make building an omnichannel customer experience a top priority
Implementing a cohesive omnichannel customer experience strategy comes with a lot of advantages, with increased customer satisfaction and customer retention topping that list.
The truth is, today's customers are so tech-savvy that they often don't even notice when they're hopping from one channel to the next along their path to purchase. This basically means that brands can't just meet their customers halfway or simply 'be where their customers are' anymore; rather, they must go above and beyond to ensure that their customers have everything they need to make purchases or seek help with confidence.
As we've discussed here, there are a lot of ways brands can improve their omnichannel customer experience. For starters, be sure to:
Map out your customer journey to identify any trouble spots that exist, especially the sticking points that slow down conversion or cause customers to bounce.
Invest in the right tech solutions—including customer self-service solutions—to streamline the customer experience, help customers become more autonomous across the customer journey, reduce support costs, and improve customer satisfaction.
Get stakeholder buy-in to ensure that everyone in your organisation, from the top down, is not only aligned on your brand's omnichannel strategy but also playing their respective roles to bring that strategy to life across all customer-facing channels.
Ask your customers for feedback and then actually take action on their suggestions.
If this hasn't sold you on the benefits of delivering an omnichannel customer experience, then check out these 30 emerging customer service trends that might make you think twice. Remember, the customer experience landscape is evolving more and more each day. Staying ahead of the curve—much less keeping up with it—can be an uphill battle. However, when you put customers at the heart of everything you do as a business, you'll create customers for life.
To learn how customer self-service solutions can play a role in propelling your omnichannel customer experience strategy forward, be sure to schedule a demo with our team today.