Living in a technology-dominated world with the prevalence of big data, people have made knowledge one of the paramount aspects of umpteen industries. With the assistance of Knowledge as a Service, or in short, KaaS, business owners can get the company hit the ground running and increase ROI in a smarter and more productive manner.
Realizing the prominent role of Knowledge as a Service in an effective business, we round up everything about it and reveal its power in the next 20 minutes.
In this post, we'll cover:
Let's get cracking!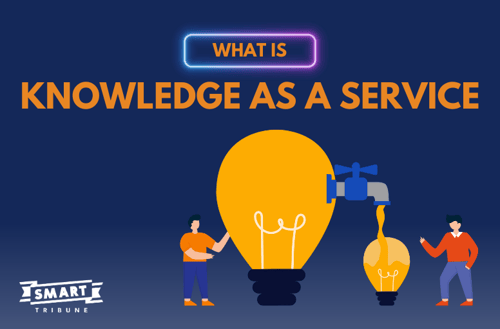 What Is Knowledge as a Service?
Simply put, Knowledge as a Service (KaaS) is a cloud-based service model that helps boost your business's productivity and optimize cost by providing expert networks, industry reports, market analysis, research databases, and other types of specialized knowledge resources for your employees and customers as well. These knowledge reservoirs are often made available through web-based portals, APIs, or other integration methods.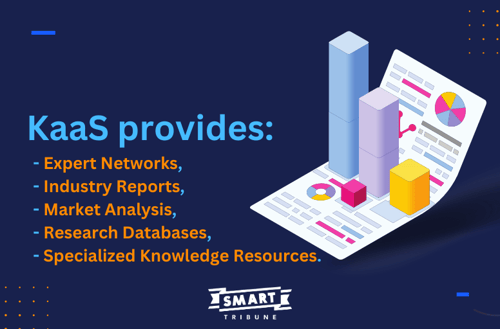 This easy access allows individuals and organizations to leverage the prowess of subject matter experts and knowledge providers on demand without having to invest in the in-house resources to maintain and manage that knowledge.
Generally, applying Knowledge as a Service requires pay-per-use or subscription. You may opt for the best option based on your needs and your financial resources.
Reveal Knowledge as a Service insights:
Benefits of Knowledge as a Service
KaaS is making a substantial contribution to various industries, including direct-to-customer (DTC), business-to-customer (B2C), and business-to-business (B2B). Let's zoom in advantages it offers.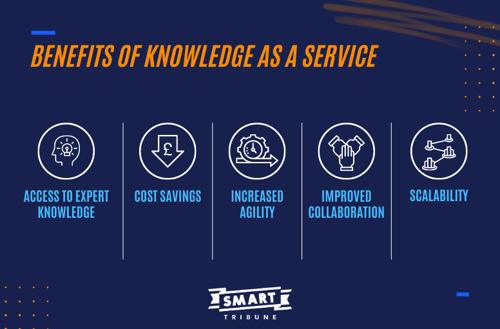 Access to expert knowledge
KaaS enables you and your team to access expert knowledge and insights that you may not have in-house. This can help make better decisions, solve complex problems, and stay competitive.
Cost savings
KaaS eliminates the need for organizations to hire full-time experts or consultants, which can be expensive. Instead, they can pay for the knowledge they need on a pay-as-you-go basis. With this pricing model, business owners can deliver more with less investment.
Increased agility
Knowledge as a Service also enables organizations to quickly access the knowledge they need immediately whenever they need it. They will not have to go through a lengthy recruitment process or wait for experts to become available.
Improved collaboration
Experts and teams can effortlessly collaborate with KaaS regardless of different locations and time zones. This ensures both teams share knowledge and work together more effectively.
Scalability
Surprisingly, as KaaS platforms can be easily scaled up or down to meet changing business needs, business owners can take full control over the scalability.
That's all about the secrets of Knowledge as a Service and how it gives you an upper hand in effectively running a business. Let's delve deep into the challenges of KaaS in the next part of our post.
Challenges of KaaS
Even though Knowledge as a Service oozes with profound benefits, there exist some challenges to consider.
A good understanding of what you're encountering will help you take full advantage of KaaS. So, check out the following concerns.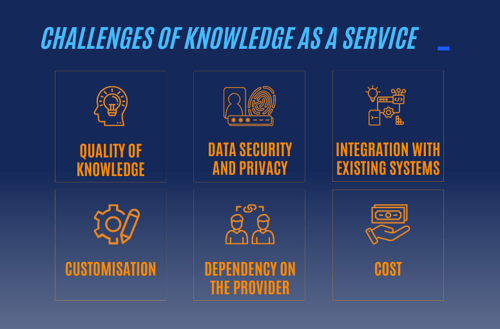 Quality of knowledge: KaaS providers may not always have the same level of expertise or knowledge as in-house experts, which can impact the quality and accuracy of the knowledge provided.
Data security and privacy: KaaS providers may have access to sensitive information, so it's important to ensure that appropriate security and privacy measures are in place to protect it.
Integration with existing systems: KaaS platforms may need to be integrated with existing systems, which can be challenging and require significant effort to ensure compatibility.
Customisation: KaaS platforms may not always be able to provide customized solutions to meet specific business needs or requirements.
Dependency on the provider: Organizations may become dependent on the KaaS provider for access to critical knowledge, which can be a risk if the provider experiences downtime or goes out of business.
Cost: While KaaS can reduce costs in some cases, it can also become expensive if there is a high volume of knowledge requests or if the provider charges for additional services or features.
That said, you can definitely get Knowledge as a Service solution under control and make full use of it by placing your faith in the right provider.
Knowledge as a Service Solutions from Smart Tribune
Smart Tribune has worked with giants like Toyota, Samsung, WWF, Guerlain,... with a satisfaction index of 99%; check out why!
Quality of knowledge: Our team will do the heavy lifting for your business. All you're supposed to do is to send us the requirement and timeline, we will design, develop and deploy a custom solution that meets your demands. This ensures that your in-house team can effectively utilize Smart Tribune products without running into hiccups.
Data security and privacy: Cooperating with a great number of Europe enterprises, Smart Tribune complies with General Data Protection Regulation (GDPR). All personal as well as business data and information are treated as strictly confidential.
Integration with existing systems: Our seasoned IT engineers not only guarantee the normal operation and compatibility of the underlying code with the built systems but also exceed business expectations with pixel-perfect UI/UX design.
Customisation: Our skilled developers satisfy any unique requirements with a fixed workflow, starting with gathering business needs and ending up with tailoring a solution that is perfectly fit for the organization.
Dependency on the provider: In fact, Smart Tribune solutions are made available to clients via a subscription. Therefore, round-the-clock support is right at your fingertips. This timely support will grease the wheels of business operations.
Cost: The quotation is determined beforehand, so the organization can balance the resources to avoid living on a shoestring budget.
With the aforementioned analysis, we believe that we are the trusted Knowledge as a Service partner companies are looking for. Give Smart Tribune a whirl to see the positive impacts today!
Future of KaaS
It might be challenging to accurately predict the future of Knowledge as a Service, however, with close observation of the current market trends, we can assure that KaaS will be flourishing.
With the increasing adoption of digital technologies, there is a growing demand for on-demand access to specialized knowledge and expertise.
KaaS offers an efficient and affordable solution to meet these needs, allowing individuals and organizations to leverage knowledge and expertise without going through traditional consulting or training services.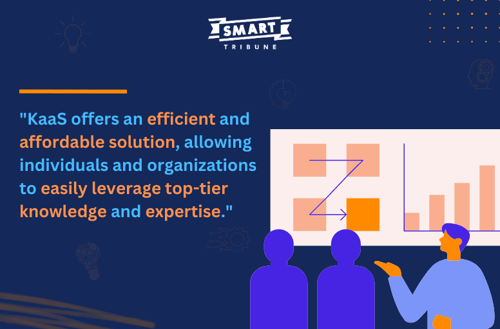 Given these factors, it is likely that the growth of KaaS will continue in the coming years as more and more businesses and individuals rely on Knowledge as a Service. By the same token, KaaS providers tend to keep innovating and expanding their offerings.
However, as with any emerging market, there may also be challenges and potential risks associated with the development of KaaS.
Examples of Knowledge as a Service Solutions
The rise of Knowledge as a Service solutions is undeniable. That's why there exist thousands of companies out there that are KaaS providers. In this section, we will be mentioning the top 3 renowned KaaS companies.
Smart Tribune is a French software company that provides a cloud-based customer service platform for businesses. The company's platform enables companies to manage and improve their customer interactions.
Smart Tribune's platform uses artificial intelligence and natural language processing to help businesses automate and streamline their customer support operations. The integration of Smart Tribune provides customers with instant responses to frequently asked questions, as well as routes more complex inquiries to the appropriate agent or department.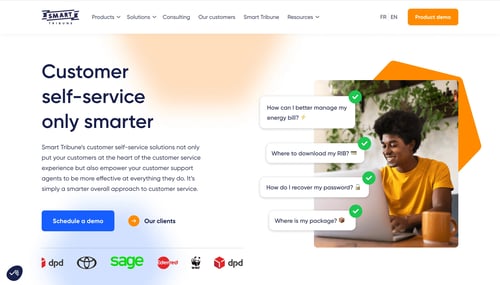 Smart Tribune is one of the juggernauts in the Knowledge as a Service industry. Smart Tribune arms businesses with 4 main customer self-service solutions that help increase customer retention, smoothen customer experience and optimize the cost of human resources in the sales department. They are:
Smart Tribune also goes the extra mile to help businesses organize, manage and adjust knowledge, database along with content in the above sections in an all-inclusive Smart Dashboard.
This robustness and centralization of Smart Tribune service enable companies to share and publish data to the right person without a hitch. That's the reason why many big brands trust Smart Tribune!
Gartner, Inc. is an American research and advisory firm that provides insights, advice, and tools to help organizations make informed decisions in the areas of technology, business, and marketing.
The company's research and consulting services cover a broad range of industries, including IT management, marketing, sales, supply chain management, human resources, finance, and more.
Gartner is well known for its "Magic Quadrant" reports, which evaluate and rank vendors in various technology markets based on their completeness of vision and ability to execute.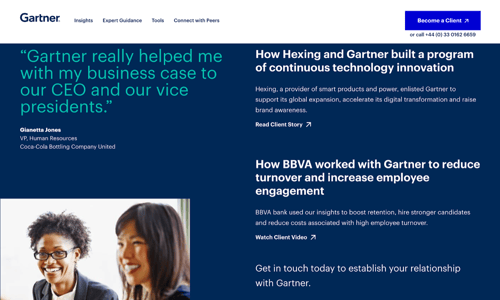 Gartner's reports and research are widely used by businesses, governments, and other organizations to gain insights and guidance on technology and business trends, as well as to inform their purchasing decisions.
Statista is a German online statistics, market research, and business intelligence platform that supplies users with a slew of data and insights on various topics, including business, finance, politics, society and technology.
The platform offers users access to more than one million statistics, forecasts, dossiers, and infographics from over 22,500 sources, including government agencies, industry associations, market research firms, and academic institutions.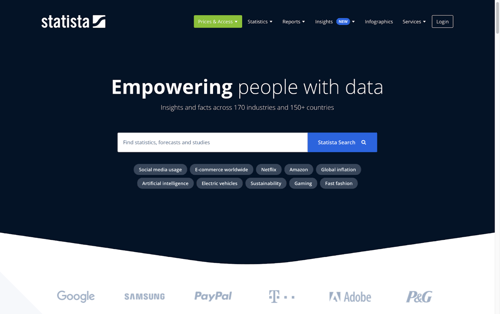 Everyone can exploit Statista data and insights by opting for a suitable subscription-based pricing package.
The company's customers include businesses, universities, libraries, and government agencies.
Frequently Asked Questions About Knowledge as a Service
What is Knowledge as a Service or What is KaaS?
Knowledge as a Service refers to a cloud-based service in which data, expertise, market research, industry report, expert analysis, and other forms of knowledge resources are provided on demand for organizations or individuals to tackle problems or boost productivity. KaaS allows businesses to access information immediately whenever they need it without investing more in in-house human resources and infrastructure.
What is knowledge?
Knowledge can be defined as the understanding, information, and skills acquired through experience, education, or study. It includes both theoretical and practical understanding of a subject matter, and the ability to apply this understanding to new situations. Three common types of knowledge are explicit knowledge, implicit knowledge, and tacit knowledge.
Bottom Line
Doubtlessly, Knowledge as a Service has observed a sharp increase in demand in multiple industries. The development of KaaS reflects
the growing need for specialized knowledge and expertise in the ever-evolving business environment.
The traditional models of consulting or training services can be expensive and time-consuming, while KaaS offers a more cost-effective and scalable solution that allows organizations and individuals to access high-quality resources quickly and easily.
KaaS providers, such as Smart Tribune, are employing the latest digital technologies, such as artificial intelligence and machine learning, to deliver personalized and relevant insights and recommendations to their clients. This enables organizations and individuals to make informed decisions and stay competitive in their markets.
Hope that after digging into this article, you will consider employing Knowledge as a Service solutions and benefit from them.
In order to provide great customer self-service without breaking a sweat, give Smart Tribune a shot! Should you have any questions or inquiries about the knowledge base article, drop us a line to get instant support.