Today's customers have incredibly high expectations—and when they reach out to customer service for help on any channel, from phone to chatbots (and everything else in between), they expect to get their questions answered or issues resolved, fast.
To do this, every part of your business—well beyond customer service alone—must have centralised access to accurate, up-to-date information at all times. Not only is this sharing of information a tried-and-true business best practice, one capable of boosting organisational efficiency and productivity, but it also has a trickle-down effect that can impact virtually every aspect of the experience your customers have whenever they engage with your brand.
Achieving this requires implementing an effective knowledge management system organisation-wide. But what exactly is knowledge management? In this article, we'll discuss why it matters for your business and how you can put your knowledge base to good use, both internally and with your customers, to drive real and lasting impact.
Table of content:

Defining knowledge management
IBM defines knowledge management as the process for identifying, organising, storing and disseminating information within an organisation. First, a knowledge management system is essential for ensuring your company's internal teams—especially those that touch the customer experience in some way—have access to a central repository of consistently accurate business-related information. But arguably even more important, this can almost organically form the backbone for how both customer service agents and customer self-service solutions are able to address customer needs more effectively.
And if there's anything we know to be true today, it's that nothing stays the same forever. Information today changes rapidly in the face of shifting business objectives and evolving customer needs. Unfortunately, many companies simply haven't invested in the right resources, whether they be tools and skilled staff, to manage through this ever-changing flow of information at scale in a streamlined and well-organised way.
What should be an even bigger wake-up call for companies, however, is that as employees change roles or leave altogether, critical information all too often gets lost in the shuffle. This can have an incredibly negative impact on all business functions, in terms of both cost and productivity, that can take years to "rebuild." But that doesn't have to be the case.

What is the goal of knowledge management?
The primary goal of a knowledge management strategy is to give companies a centralised, scalable, and convenient way to access and update essential information that supports key business functions, including customer service. Doing so can break down the silos existing within companies, departments, teams, and even employees themselves to ensure that everyone has quick and easy access to consistently accurate, up-to-date information at all times.
Even more, it eliminates the need to update the same information in multiple places, which has the added benefit of minimizing the potential for information inaccuracy.
A knowledge management system takes the hassle out of how companies share information and facilitates an organisation's ongoing knowledge transfer, so employees—including outsourced customer service agents—can dedicate more of their time, effort, and energy on high-value activities that improve the customer experience and boost a business's bottom line. Not to mention, having good knowledge management practices in place can give companies a competitive advantage.
What are the challenges of knowledge management?
If a company's shared knowledge has lived in siloes or has been managed in ad-hoc ways for years, the hardest part of launching an effective knowledge management strategy is simply bringing all of those pieces together in a uniform way. This requires a significant investment in time and resources to collect, collate, and curate literally tons of information.
The next big challenge is making sure that the information you've brought together "under one roof" is up-to-date and accurate before disseminating it organisation-wide. Getting over these hurdles is the key to ensuring that everyone within your company has access to the same information without having to look high and low for it. However, if your company has never been the poster child for knowledge sharing, don't expect this to happen overnight.
Why is knowledge management important?
Having access to accurate and up-to-date information is more important today than ever before. Digital tools and services have accelerated our ability to produce unlimited streams of content. But that means, within companies, there's a lot of content and information floating around, much of which can have an even greater impact if made easily accessible to those who need it.
Keeping this in mind, the biggest benefits of knowledge management typically revolve around:
1. Productivity
An effective knowledge management process allows companies to streamline their operations and take proactive steps towards improving the customer experience from the inside out.
There are a lot of productivity benefits that go hand-in-hand with implementing a successful knowledge management strategy, including:
Standardizing day-to-day business processes
Reducing the need to recreate existing knowledge
Simplifying how employees find business-related information
Empowering customer service agents to resolve queries faster
Minimizing errors or duplicative content (that hasn't been updated)
Speeding up employee onboarding,
Streamlining ongoing employee training
Making more well-informed business decisions
In fact, 74% of organisations estimate that effective knowledge management increases company productivity by 10% to 40%. It also has the added benefit of boosting employee happiness by eliminating the roadblocks that make it really hard for employees to find the information they need to do their jobs effectively. This comes at a time when employees spend up to 26 days per year searching for information when they could dedicate that time to more meaningful work.
2. Cost savings
While it may not be something you think about regularly, there is actually a big cost to not sharing knowledge uniformly across your company. For some the cost of lost knowledge, resulting from a single employee's departure, can run around $1 million. For others, it's absolutely priceless. This makes a lot of sense because every time critical and valuable knowledge gets lost, companies have to start from scratch to fill the void. Doing so requires allocating valuable resources that would otherwise be focused on keeping the proverbial trains moving forward.
These costs also add up fast—so much that it has been found that Fortune 500 companies lose over $31 billion per year simply by not sharing knowledge across their organisations. Therefore, there's really no scenario where the cost of investing in a knowledge management system outweighs the costs and implications of not sharing organisational knowledge altogether.
Don't hesitate to read our article 100+ Inspiring Knowledge Base Examples to know more about some knowledge base use cases.
3. Customer experience
Companies that share relevant knowledge effectively have a leg up on creating better, more cohesive customer experiences by making critical knowledge easily accessible to all teams that touch the customer experience in some way. This is even more important within the customer service experience: The faster that customer service agents can access pertinent business or customer information whenever customers reach out for help, the quicker they can resolve customer queries—which has a direct impact on overall customer satisfaction and happiness.
In the context of customer self-service solutions, knowledge management systems—primarily knowledge asset bases—allow those intelligent tools to tap into a repository of accurate information to help customers be more autonomous throughout the entire customer journey. When implemented well, these solutions can answer up to 70% of tier-1, FAQ-related queries on their own and, as a result, reduce the number of requests into customer service by 50%. This is especially important knowing that 72% of customers today prefer finding answers to their questions on their own before having to reach out to a live customer service agent for help.
This not only gives customers a better way to get the (oftentimes simple) information they need, whenever and wherever they need it, but it also frees up customer service teams to dedicate more of their time and attention on resolving complex customer requests. But this is virtually impossible without an effective knowledge management in place.
"Companies that prioritise knowledge transfer are perceived by employees as more competitive with respect to revenue growth and client satisfaction. Workers see them as more innovative and more attractive for employment."

— 'The New Knowledge Management' (Deloitte)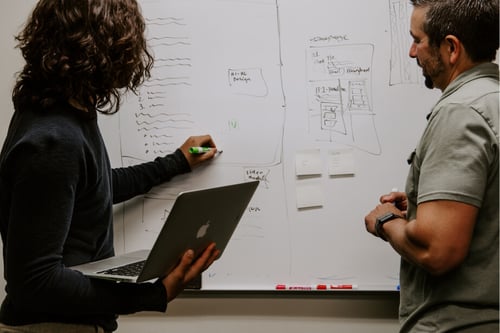 Common types of knowledge management
There are a lot of different kinds of knowledge management systems used by companies today, but they certainly aren't one in the same. Here's a quick rundown:
Content management systems (CMS) provide companies with a powerful (digital) solution for knowledge creation. It provides an opportunity for developing, storing, organising, updating, sharing, and collaborating on business-related information and content in a uniform, streamlined, rule-based way. CMS platforms typically have robust features for tagging content and adding relevant metadata to ensure that information is easy to search and find. Examples of popular CMS platforms include Microsoft SharePoint, Confluence, and Laserfiche.

In a slightly different but related capacity, a CMS can also serve as

the basis for building a no-code website and managing website content

. A great example of this is HubSpot.
Document management systems include popular cloud-based tools—like Google Drive, Microsoft OneDrive, and Box—that give individual employees and companies as a whole an easy way to store, organise, and share company documents or work-related content. Because access to content on these platforms is often permission-based, they provide a great way for employees to do most of their work in the cloud, in a secure and private way, versus having to rely solely on their desktops or laptops to store their work.
Customer relationship management (CRM) systems

gather, store, and analyse huge amounts of customer-related data from all channels in one place

, with many systems tapping into the power of artificial intelligence (AI) to help make sense of it all.

These systems are used primarily by marketing, sales, and customer service teams to:

Target and engage new customers (or leads)
Nurture existing customer relationships
Drive conversions
Minimise churn and boost retention
Create personalised customer interactions
Offer effective customer service
Glean actionable insights to drive business growth



Knowledge bases are central repositories of information that can be used for both internal- and external-facing purposes. Internally, a knowledge base serves as a central hub for company-wide knowledge sharing and training. In most cases, it can also be leveraged seamlessly by customer service teams—and even fuel customer self-service solutions, like chatbots, dynamic FAQs, and help widgets—to ensure that all help-related information passed along to customers is always accurate and up-to-date.
82% of employees said their organizations need to do a better job of tying knowledge to action.

— Source: Knowledge Management (Deloitte)
Steps for implementing a knowledge management system
Now that you understand the critical importance of knowledge sharing across your entire organisation, it's time to put a knowledge management strategy into action. But you might be wondering where to start. Fortunately, we've put together some helpful tips on what you should keep in mind when implementing a knowledge management system for the first time:
Set goals and objectives: All companies will obviously want to implement a knowledge management system to boost productivity, reduce costs (resulting from lost information), and improve all aspects of the brand and customer experience. But every company is different and, as such, should have its own unique goals and objectives—as well as how you plan to measure its success—established before getting too far into the weeds. Doing this early on will set important ground rules guiding every aspect of your knowledge management strategy, including how you plan to boost adoption of a knowledge management tool across all employees.

It's also a great way to ensure that key cross-functional stakeholders—especially executive sponsors who will be critical for getting dedicated resources assigned to the project—

stay rallied around a clear and transparent vision

from start to finish. These company leaders also must set the example as 'early adopters' of the new knowledge management system for all employees to follow. After all, if they don't demonstrate their active participation in the project, why would other employees ever follow suit?
Develop a change management strategy: You can't assume that if you build it, they (meaning, your employees) will come. Introducing new tools and technology across an entire company is no easy feat. This is even more so the case when you're asking employees to essentially change how they go about their day-to-day work. So, you need to approach this from your employees' perspective. Part of this involves creating a knowledge management system implementation team that includes key decision makers and influencers from various parts of the organisation who will play an active role in getting buy-in, support, and adoption from their own teams. In other words, this process can't happen in a vacuum; soliciting feedback will be critical for the project's success.
Document process requirements: This is likely the least "fun" aspect of implementing a knowledge management system, but it's arguably the most important part of this project. At this stage, you need to outline a clear process, aligned to your goals above, that all employees will use to create, organise, share, and update organisational knowledge in a cohesive and uniform way. Part of this should include how you plan to train employees on using the new tools available to them to ensure that they can replicate the uniform processes you're hoping to implement at scale.

One way of going about this exercise is to look at where your company is today (i.e. current state) and where you need it to be in the future (i.e. desired state) as a result of implementing a knowledge management system. Initially, this will mostly be about identifying and closing knowledge transfer gaps. Over time, you can expand this strategy to drive greater business impact however possible.
Build an implementation roadmap: This step requires you to implement your knowledge management system and strategy isn't something that you can just flip the switch on. It requires a lot of time, energy, and heavy lifting by everyone on the implementation team. To help make this more manageable, consider breaking up the implementation project into smaller parts tied to key strategic milestones. This will help make the implementation feel more manageable and also help you clear away roadblocks in the process early on.

Just remember that part of this roadmap should include a series of pre-launch communications to employees that explain what the knowledge management system is, why it is beneficial for the organisation, how they can get trained on using it, and so on. You basically want to make sure that your entire company is ready to go once your new knowledge management solution goes live. So, use this time to your advantage, as it will be key to boosting widespread understanding and adoption.
Measure success and refine continuously: Implementing a knowledge management system is not a one-and-done process. You need to approach it as a product that will evolve over time, especially as business needs change, as you set new goals and objectives, or as new tools and technologies get added into the mix.

As a starting point, you'll want to keep tabs on the measures of success (identified above) that can tell you if your new knowledge management strategy is working to achieve your goals or where it might be falling short. These (mostly data-driven) insights can help inform how you will either improve your knowledge management tool or evolve internal processes over time. Remember, implementation is merely a starting point; the sky's the limit in terms of your ability to drive organisational efficiency and employee productivity from this point forward.
Smart Tribune takes knowledge management to the next level
Companies today simply can't afford to keep knowledge and information hidden within silos.
So, if your company is ready for a knowledge management system, but you're not sure where to start, the good news for you is that Smart Tribune has a solution for you: Smart Knowledge.
Our intuitive, AI-powered knowledge management software helps companies organise and share business-critical knowledge more effectively and efficiently while also creating a foundation for implementing intelligent customer self-service solutions—like Smart FAQ, Smart Bot, and Smart Push—that help customers be more autonomous at every step along their journey with your brand.
To learn how Smart Knowledge can transform your business, schedule a demo today.