Want to build a knowledge base that helps reduce customer churn rate and effectively communicates with your customers? Don't worry! We've compiled the best 10 knowledge base examples for you to learn from.
In this article, we'll walk you through all you need to know about the website knowledge base, including:
It will be a long journey. Fasten your seatbelt and get this show on the road.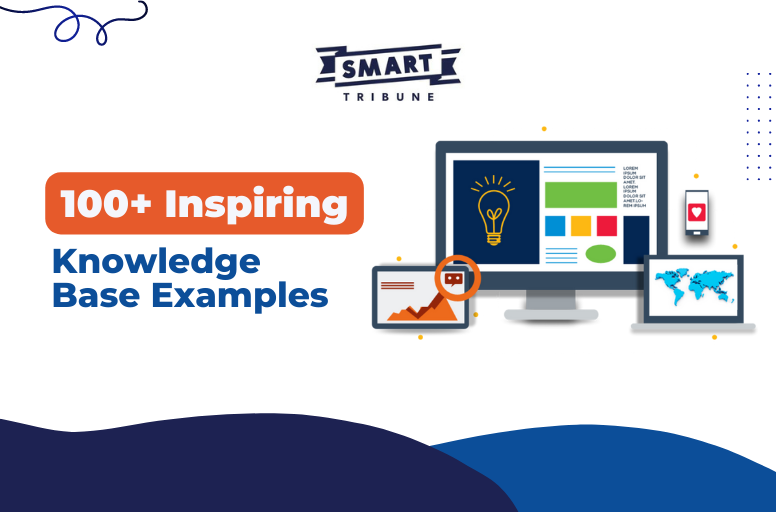 What is A Knowledge Base?
A knowledge base is a centralised repository of information that helps individuals and organizations to manage and share knowledge.
Knowledge base examples vary widely depending on the industry, organization, and intended audience. Some examples include internal wikis, customer self-service portals, and instructional guides.
If this is the very first time you heard about customer self-service, check out What is customer self-service!
In software development, knowledge bases can be documentation libraries, bug-tracking systems, and development workflows. In healthcare, knowledge bases can store medical information, research findings, and clinical best practices.
Whatever the industry or purpose, a knowledge base can be an invaluable tool for improving efficiency, collaboration, and decision-making. In the digital era, online knowledge bases are more frequently used for customer self-service purposes.
Find out more about How an internal knowledge base will boost your employees' efficiency
Top 9 Best Knowledge Base Examples That You Need to Know
Now that you have a better grasp of what a knowledge base actually is, let's take a look at the 9 best knowledge base examples, honest review and key takeaways for inspiration!
#1. Salesforce
Salesforce is a leading customer relationship management (CRM) software provider that helps businesses manage their sales, marketing, and customer service operations.
Their knowledge base is a comprehensive repository of articles and resources designed to help users get the most out of their software.
Salesforce's knowledge base is an excellent resource for users seeking assistance with the software. One of the main reasons for this is its extensive coverage of many topics, ranging from beginner to advanced customization and integration. The articles are well-written and straightforward, containing helpful screenshots and videos to aid understanding.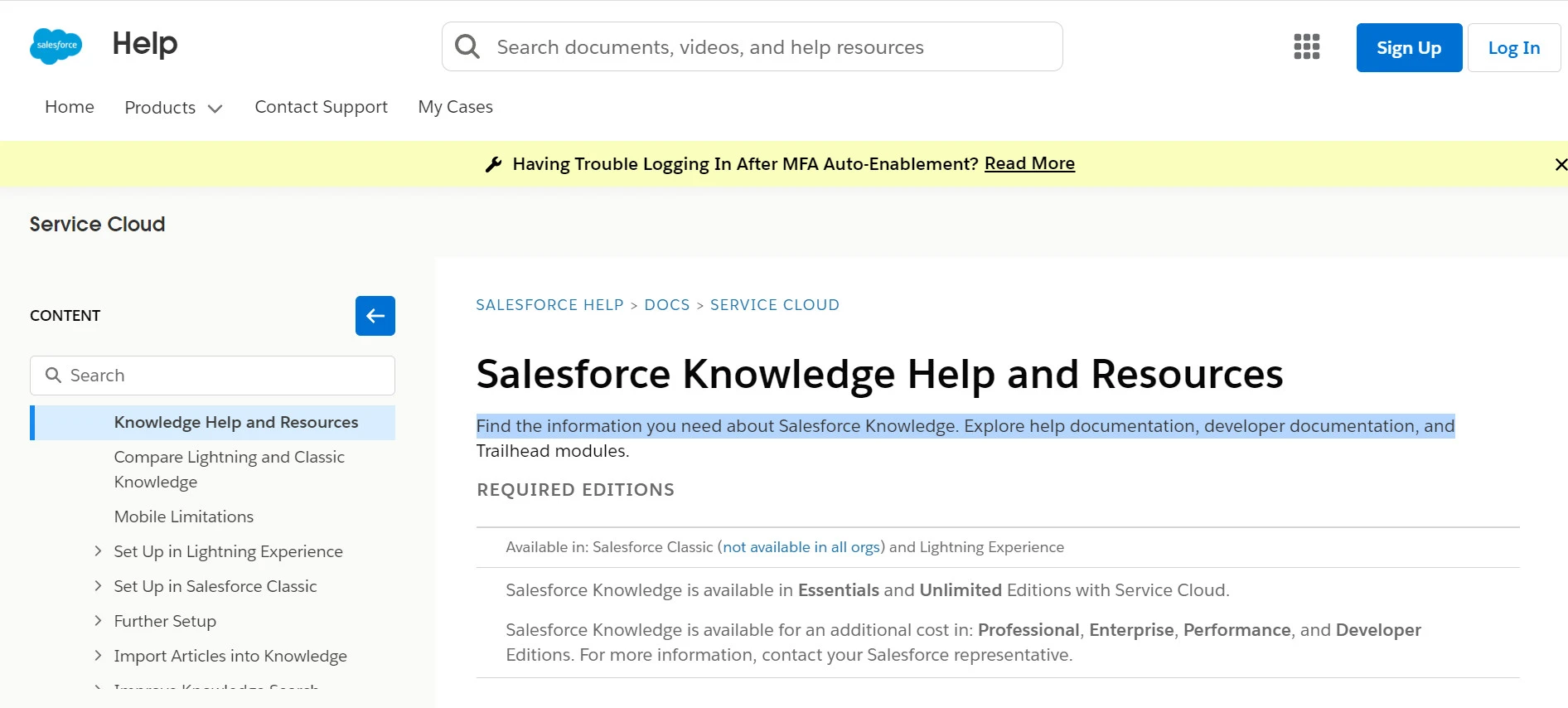 Salesforce is one of the best knowledge base examples for you to learn from
The knowledge base is also regularly updated with new content, reflecting changes in the software and industry trends. Furthermore, the enhanced search bar makes it easy for users to quickly locate the information they need.
#2. Samsung
It would be a huge mistake not to include Samsung in the list. Samsung is a multinational technology company that produces various electronics, including smartphones, televisions, home appliances, and more.
Their knowledge base is an extensive resource that provides customers with access to troubleshooting guides, product manuals, frequently asked questions, and other useful information. The Samsung knowledge base is organized by product category, making it easy for customers to find the information they need quickly and efficiently.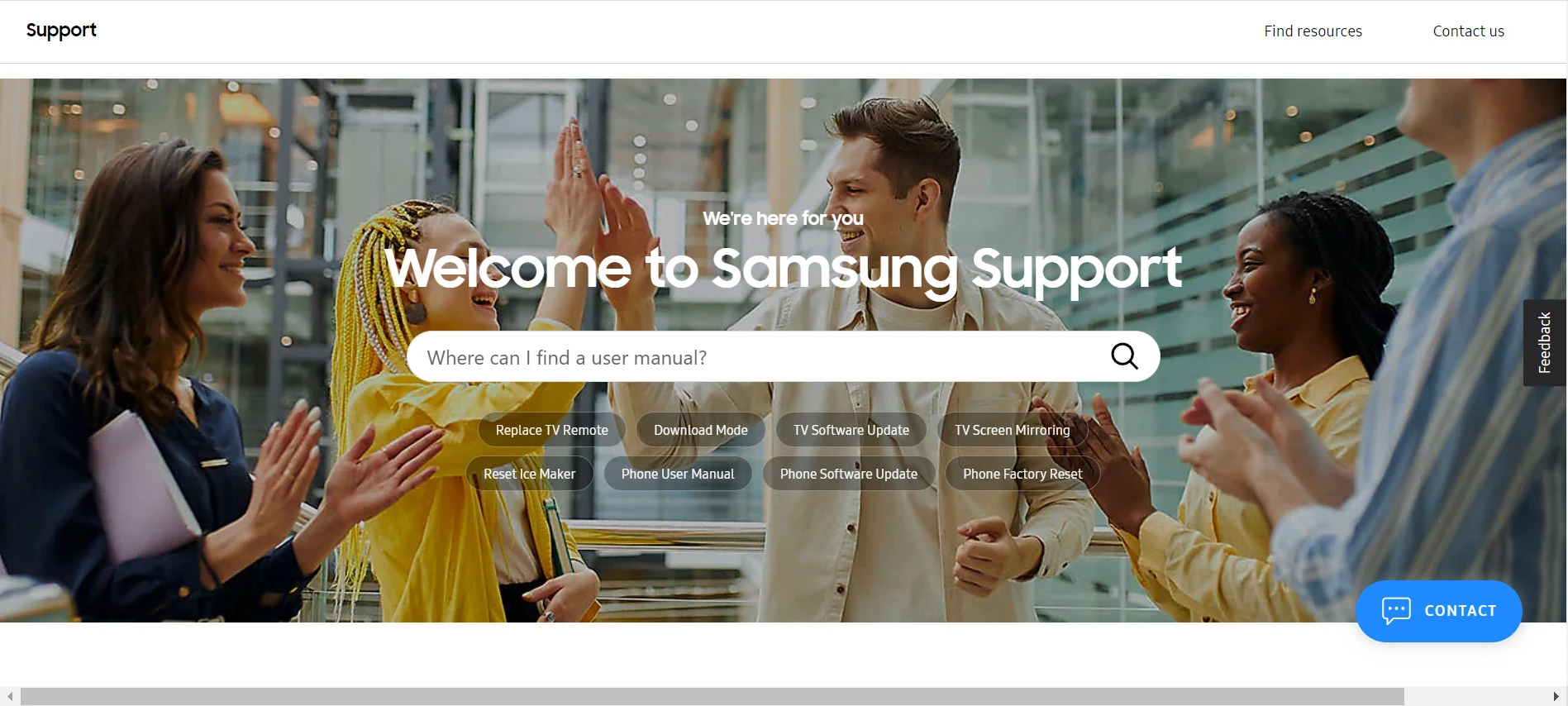 Samsung has one of the best knowledge base examples
One of the reasons why Samsung's knowledge base is particularly good is that it is designed to be user-friendly. The search functionality is intuitive and effective, and the articles are written in clear and concise language, making it easy for customers to understand even complex technical concepts.
Additionally, Samsung provides a range of support options beyond the knowledge base, including phone support, live chat, and email support. This combination of resources allows customers to resolve their issues quickly and efficiently and helps ensure they have a positive experience with Samsung products.
#3. Lexus
Next up, we have Lexus - one of the knowledge base examples that hit all the right notes. Lexus is a luxury car manufacturer known for its commitment to quality, innovation, and customer satisfaction. One of the ways in which Lexus has distinguished itself from its competitors is through its comprehensive knowledge base.
The Lexus knowledge base is a rich repository of information and resources designed to help customers get the most out of their vehicles.Their knowledge base is organized into several sections, each focused on a specific aspect of vehicle ownership.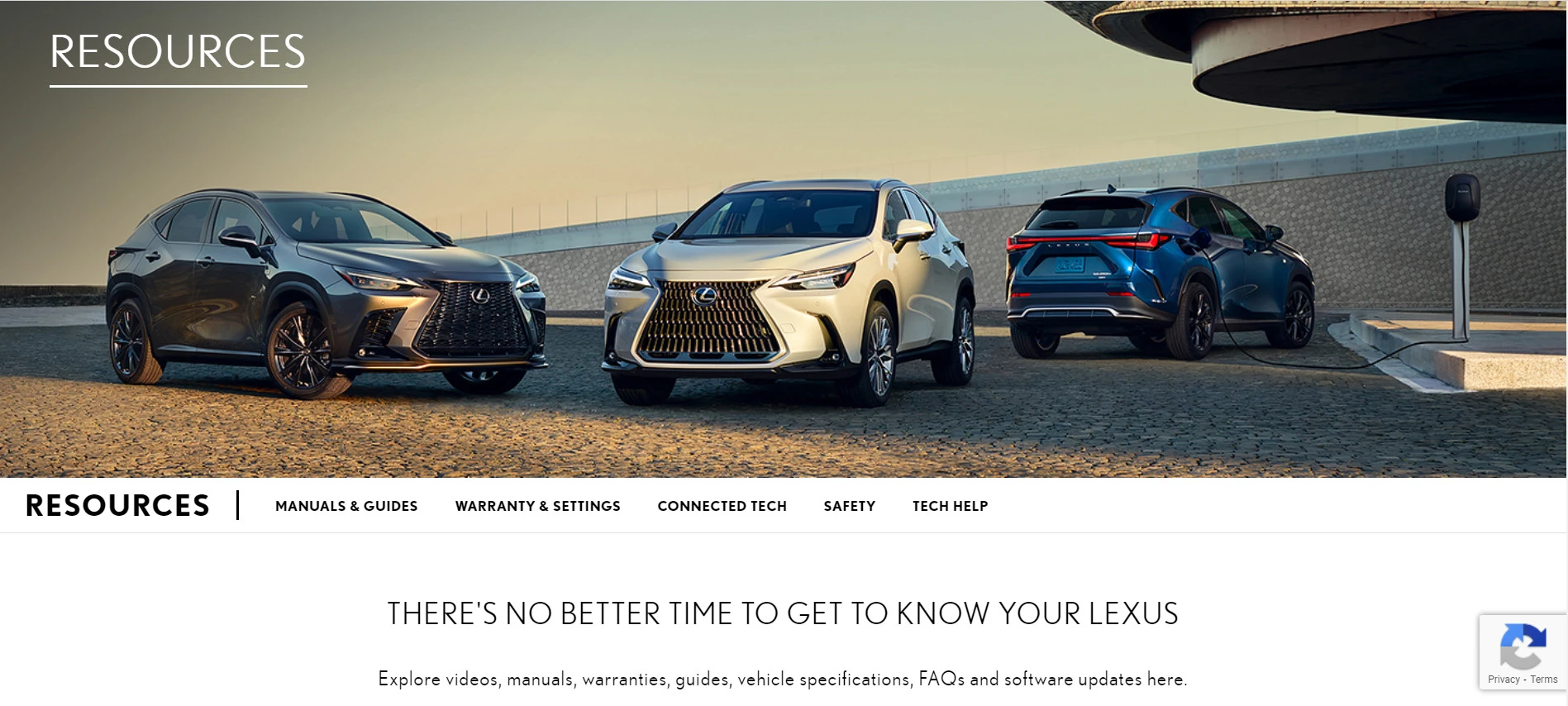 Lexus has one of the most impressive knowledge repository examples
For example, customers can access information on operating their vehicle's features, troubleshoot common issues, and perform routine maintenance tasks. The knowledge base also includes instructional videos, user manuals, and other helpful resources.
By investing in this resource, Lexus has empowered its customers to become more knowledgeable and self-sufficient vehicle owners, ultimately enhancing their overall ownership experience.
#4. Toyota
Toyota is a Japanese-based multinational automotive manufacturer that produces some of the world's most popular and reliable vehicles.
Toyota's knowledge base is a comprehensive customer resource, providing answers to frequently asked questions, troubleshooting guides, and step-by-step instructions for all vehicle-related issues. The knowledge base is designed to be easy to navigate and user-friendly, with a search function that allows users to easily find the info they need.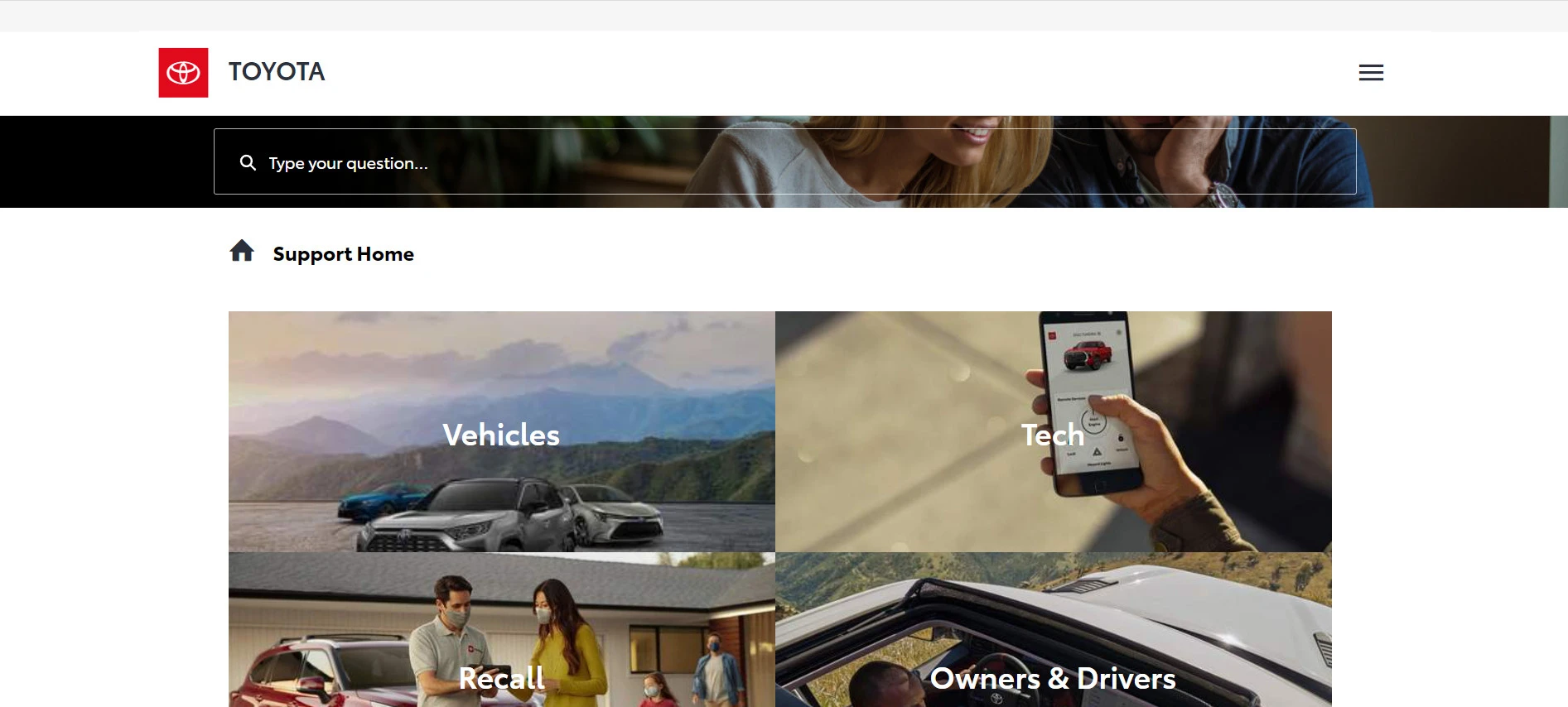 Toyota's eye-catching and insightful knowledge base examples
Plus, the knowledge base is regularly updated with new information and resources, ensuring customers can always access the latest information.
Toyota's knowledge base is a prime example of how businesses can leverage technology to provide better customer service while streamlining their operations. By making information readily available, Toyota can help customers resolve issues quickly and efficiently, reducing the need for time-consuming phone calls or visits to a service center.
#5. TotalEnergies
TotalEnergies is a leading energy company committed to providing sustainable energy solutions and strives to be a responsible corporate citizen.
TotalEnergies has an extensive knowledge base that supports its employees and job seekers at every step of their careers. The knowledge base is available on the company's website and provides valuable resources for professional development, career guidance, and job search assistance.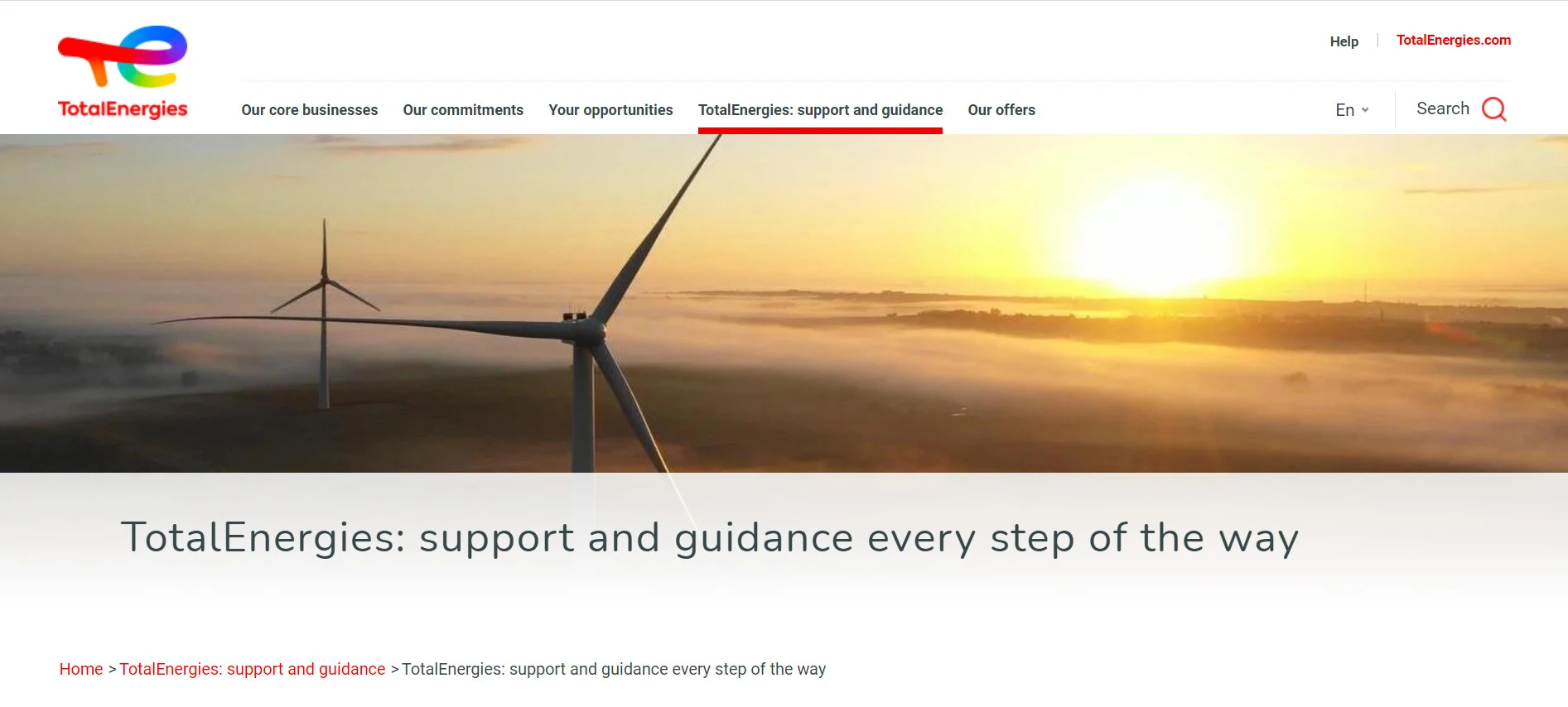 TotalEnergies's support and guidance portal
If you're searching for one of the top knowledge base examples to learn from, TotalEnergies knowledge base can be your answer. The knowledge base offers a wide range of resources catering to different users' needs. Whether you are a recent graduate, an experienced professional, or a job seeker, you can find relevant information to your situation.
TotalEnergies's knowledge base is well-organized and easy to navigate, allowing users to quickly find the information they need without sifting through irrelevant content. TotalEnergies also has a team of experts who manage the knowledge base and support users who need assistance.
#6. Guerlain
Guerlain is a luxury cosmetics and fragrance brand founded in Paris in 1828. The company prides itself on using only the finest and rarest ingredients, combined with innovative technology, to create luxurious and effective beauty products. Guerlain's commitment to excellence extends to its knowledge base, a comprehensive resource for customers seeking information about the brand's products, ingredients, and environmental and social initiatives.
What makes Guerlain's knowledge base outstanding is its depth and breadth of information. Customers can learn about Guerlain's commitment to sustainability, which includes responsible sourcing, eco-design, and community engagement.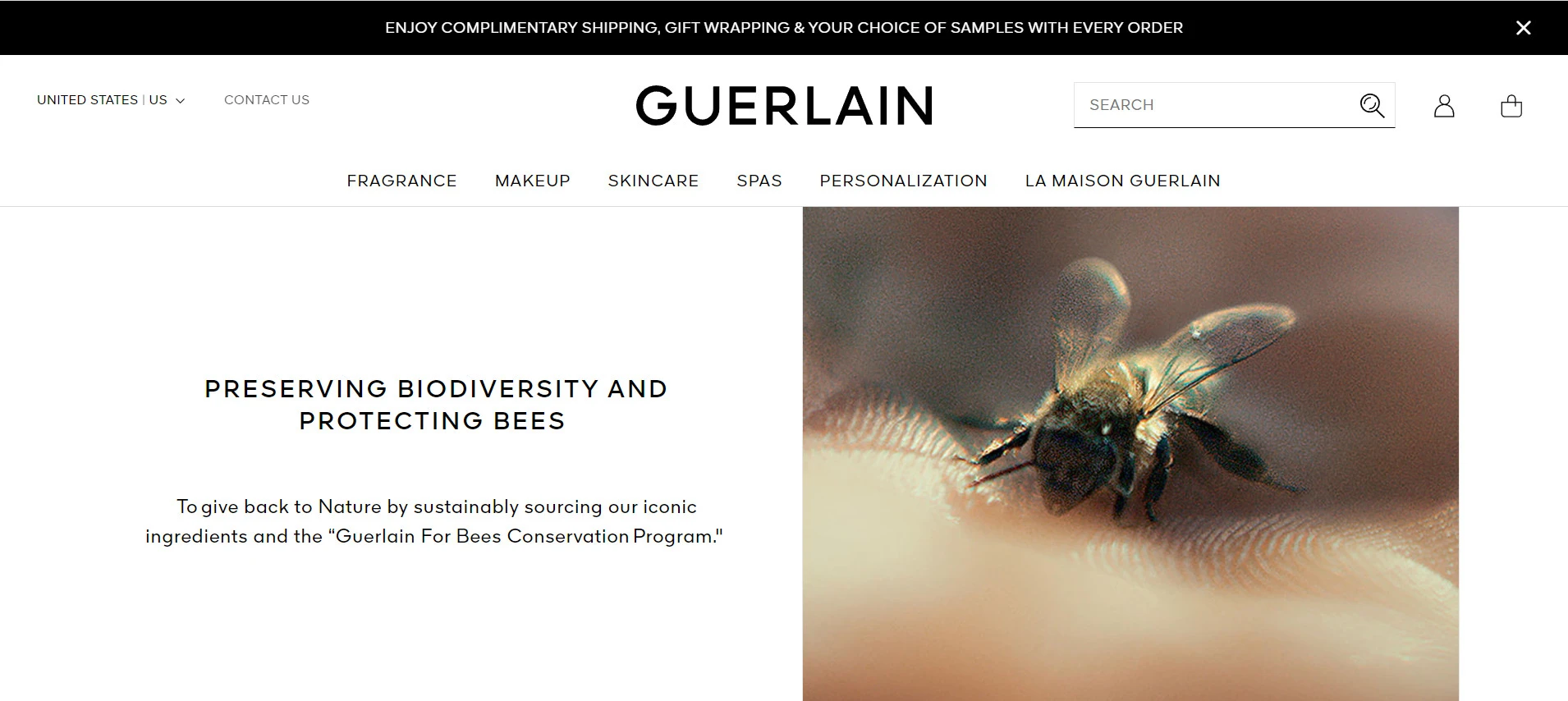 Guerlain has an outstanding public knowledge site about the brand's commitment to environment protection
Guerlain's knowledge base is an outstanding resource for customers seeking information and education about the brand's products and initiatives. It's user-friendly and visually appealing, with easy-to-navigate sections and high-quality images.
The knowledge base also offers multiple language options, making it accessible to a global audience.
#7. WWF
WWF, or the World Wide Fund for Nature, is an international non-governmental organization that aims to protect the world's natural resources and biodiversity.
WWF knowledge base is invaluable for anyone interested in conservation issues. It is a testament to the organization's commitment to protecting the world's natural resources and biodiversity and reflects the organization's expertise and dedication to providing high-quality information to the public.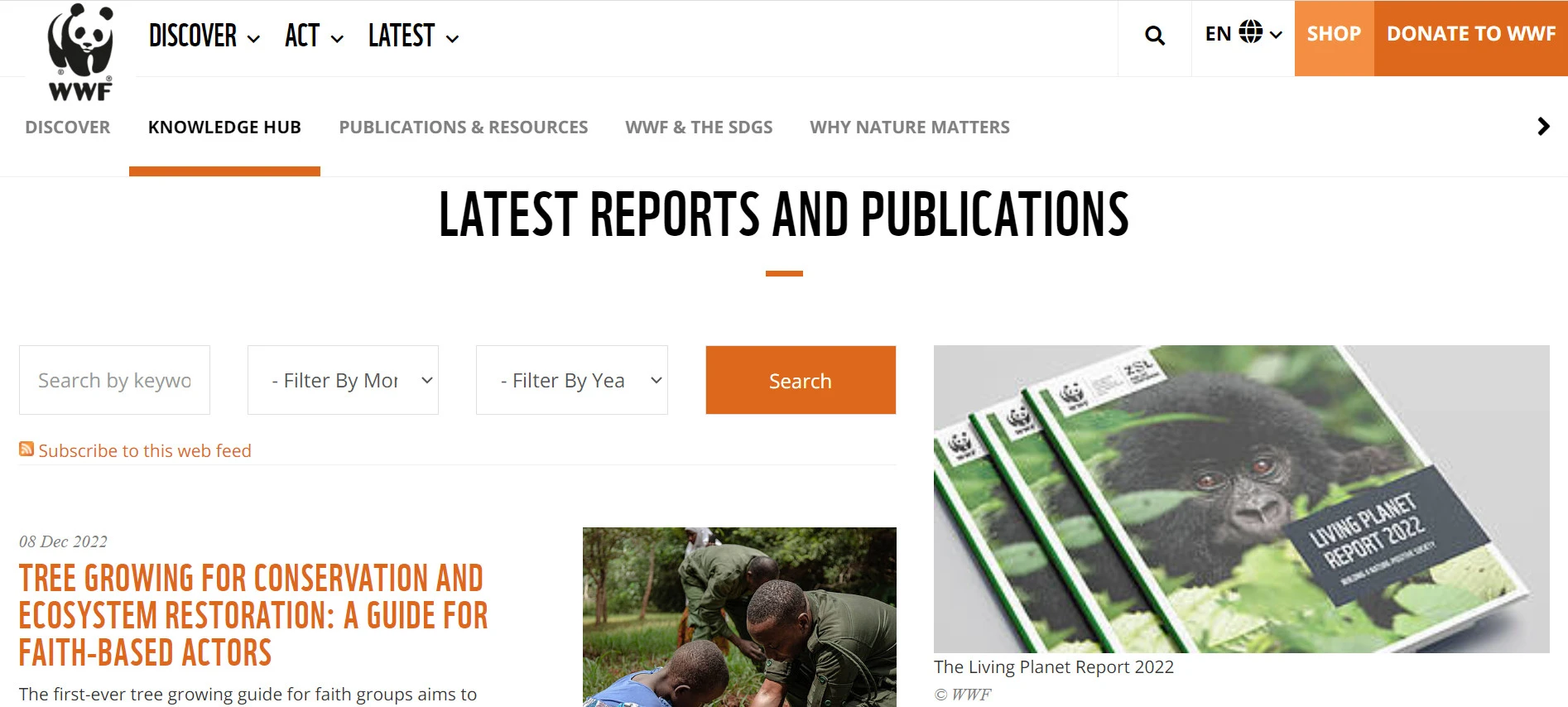 WWF has a wide range of knowledge base article examples you might be inspired by
The WWF knowledge base is a vast collection of articles, reports, videos, and interactive tools covering various conservation topics, including climate change, habitat loss, and wildlife conservation. Their knowledge base is presented in an accessible and user-friendly format, making it easy for anyone to access and understand.
Whether you are a researcher, student, or concerned citizen, the knowledge base has something for everyone. The organization's global reach and extensive network of experts ensure that the information is comprehensive and relevant to a wide range of audiences.
#8. Confluence
Are you looking for the top-tier knowledge base examples from an SaaS business to learn from? If so, Confluence's knowledge base is worth looking at!
Confluence is a popular business software developed by Atlassian that allows teams to collaborate and share knowledge in a centralized platform. The software offers comprehensive features enabling users to create, edit, and organize content in a collaborative environment.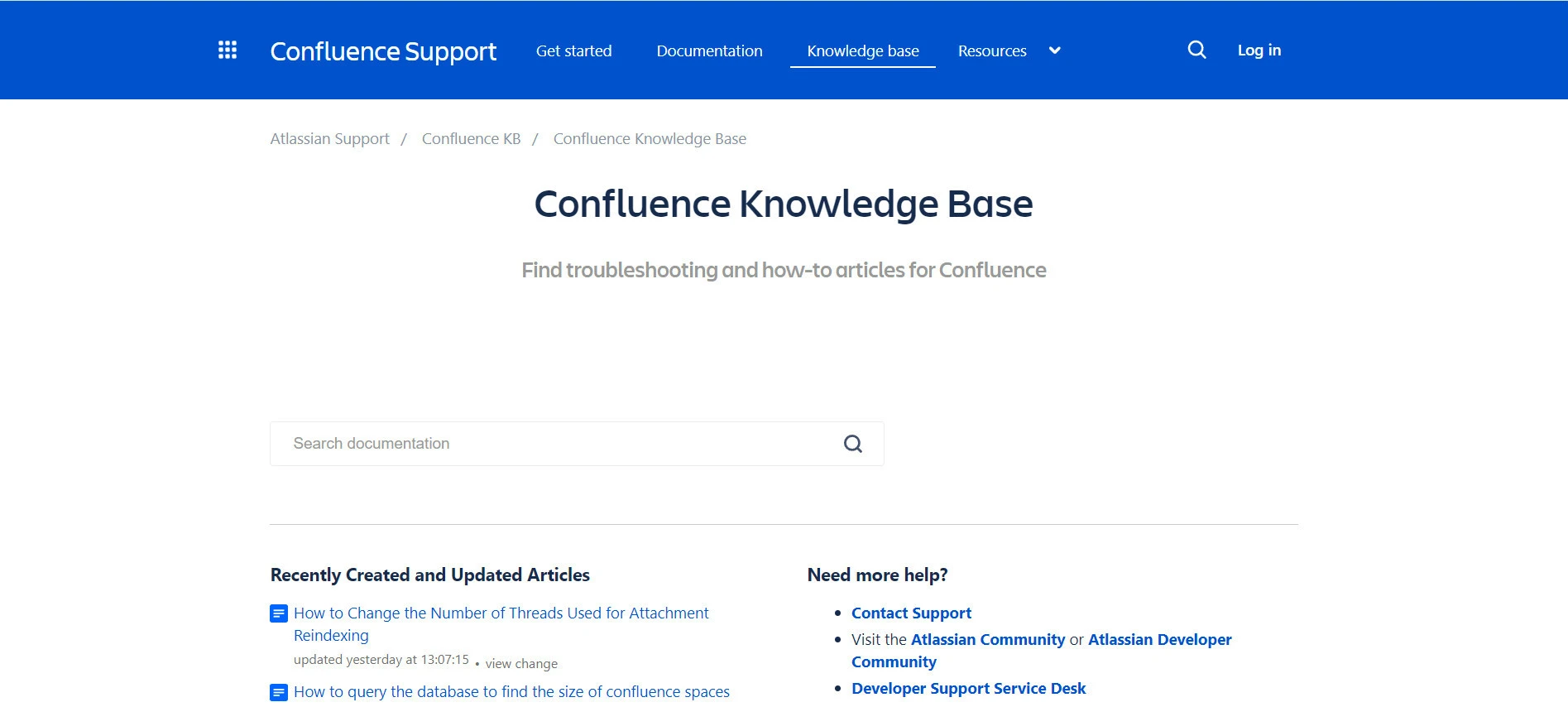 Simple but informative Confluence knowledge base examples
Confluence's knowledge base is a remarkable resource that offers users access to a wealth of information, tips, and tricks on using the software effectively. The knowledge base is regularly updated and covers a broad range of topics, from getting started with Confluence to advanced tips and tricks.
All articles are well-written, easy to understand, and organized logically and intuitively, making it easy for users to easily make their ways to the data they need. The big plus is that the knowledge base is accompanied by clear visuals and step-by-step instructions that guide users through the software's different features.
Confluence's rich knowledge base documentation library is an excellent example of how a knowledge base should be designed and maintained to provide real value to users.
#9. Hubspot
Hubspot is a cloud-based software-as-a-service (SaaS) company that provides marketing, sales, and customer service tools to businesses of all sizes.
Hubspot has one of the largest knowledge bases, which serves as a go-to resource for Hubspot users seeking answers to their questions and guidance on how to use the platform's features effectively.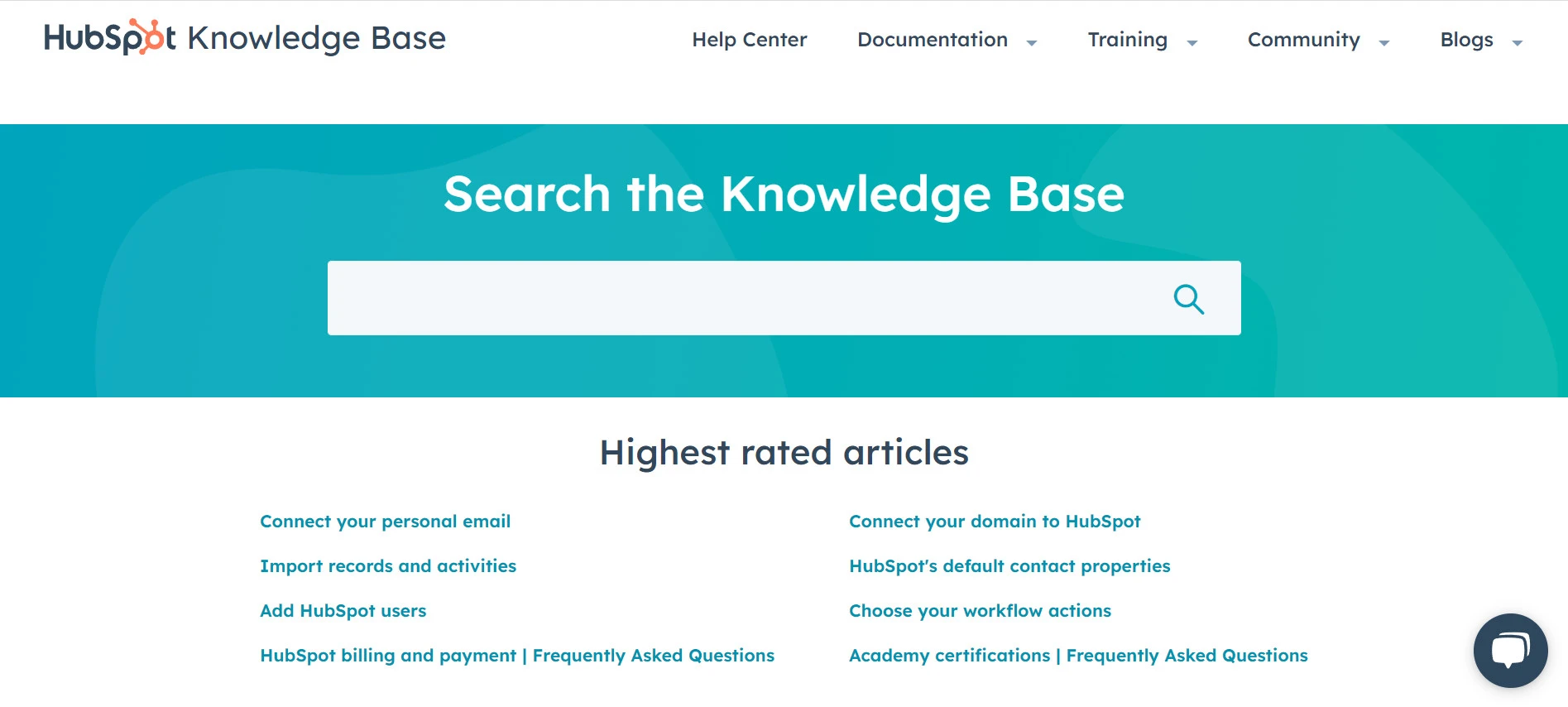 Hubspot knowledge base examples - insightful and well-structured
The knowledge base contains a miscellaneous collection of articles, tutorials, videos, and other materials that cover every aspect of the platform's functionality, from setting up a new account to creating advanced workflows or analyzing data, etc.
Hubspot's knowledge base focuses on user experience and accessibility. All articles are written in clear, concise language, with step-by-step instructions and screenshots to help users follow along. The content is organized into well-structured categories and subcategories, enabling their users to navigate around with ease.
You may not know that Samsung, Lexus, Toyota, TotalEnergies, Guerlain, and WWF have been exceedingly satisfied with their knowledge bases developed by Smart Tribune. They now keep garnishing their online knowledge page with the assistance of Smart Dashboard.
Other Best Knowledge Base Examples by Domain
We are fully aware that our audiences are working in diverse domains, therefore, we list out a handful of striking knowledge base examples by the industry for you to get your inspiration.
DOMAIN

BRAND

Agrifood

Cristalco

Automotive

Aramis Auto

B2B

Edenred

Giphar

Apetiz

Apave

Aliapur

Banking

Sofinco

RCI Bank

Apy Bank

Crédit Mutuel Nord Europe

Banque Populaire

Linxea

Mes placements.fr

Toyota Financial Services

Banque Populaire Bourgogne Franche-Comté

eCommerce

Cuisine Plus

Valrhona

Fnac Darty

Duolab

Interflora

Ixina

Mr.Bricolage

Alltricks

Clarins

Leroy Merlin

Sport Master

Micromania

Toupargel

Boulanger

Education

HETIC*

Hes.so

Entertainment

Genybet

UGC

Fashion & Luxury

DIM Paris

Gémo

Maison 123

Maje

Clarins

The Kooples

Etam

Sarenza

Government

Insurance

Intériale

Macif

Matmut

Mgéfi

April*

MNH

La Sécurité Sociale des Artistes Auteurs

Media

Le Monde

Bayard

Mediapart

Prismashop

NGO

Croix-Rouge française

Pure player

Cinemur

Meetic

Real Estate

Altarea Cogedim

CDC Habitat

Habitat 76

Pichet

Renée Costes Viager

Services

HomeServe

Software

Sage

GS1

Coyote

Sport

OM

Stade de France

Technology

VTech

Transport

SNCF

Keolis Bordeaux

La Méridionale

DPD

Pickup

Travel & Tourism

Air Austral

Voyage Privé

Carrefour Voyages

Keolis

Utilities

AS24

Happ'E

GRDF

Engie

Air Liquide

Fioulmarket

Antargaz

E.Leclerc Energie

Gaz de Bordeaux
FYI, the list of top-notch knowledge base examples above are Smart Tribune customers. They were just like your business, book a demo and turbocharge their knowledge portal without a hitch!
Checklist for Building Best Knowledge Base for Customer Service
Wondering how to create knowledge base of yours? Take a look at our comprehensive checklist to launch an awesome knowledge base to enhance your digital customer experience:
Identify your audience and their needs
Organise content in a clear and logical manner
Use easy-to-understand language and provide examples
Make sure the knowledge base is easily searchable
Regularly update content to reflect changes and additions
Include multimedia, such as videos and images, to enhance understanding
Provide a way for customers to provide feedback and suggest new topics
Leverage knowledge base tool

Smart Knowledge

to smoothen customer experience
Test the knowledge base with a focus group to ensure usability and effectiveness.
Enormous Benefits of A Knowledge Base
By providing customers access to a comprehensive repository of information about your product or service, you can help them find the answers they need quickly and easily, without waiting on hold for a support agent. This can lead to faster resolution times and increased customer satisfaction.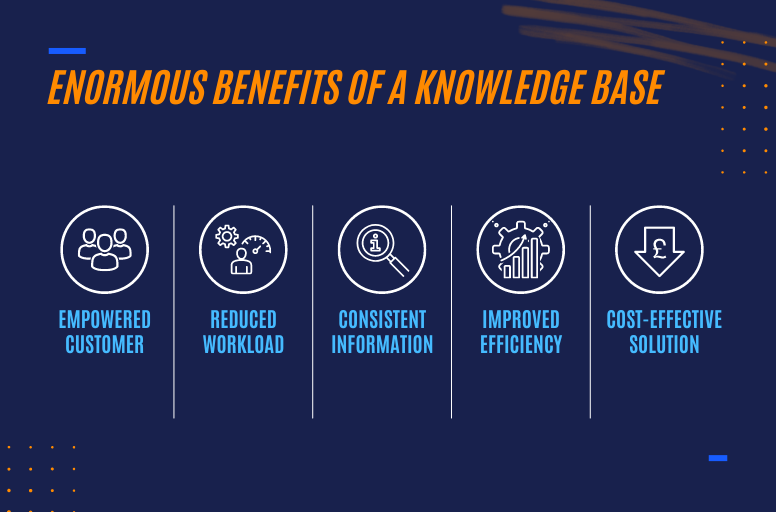 To sum up, here are some of the benefits of a knowledge base:
Empowered customers: A knowledge base allows customers to find the answers they need independently, saving time and increasing satisfaction.
Reduced workload: A well-organized knowledge base can reduce the number of inquiries that customer service teams receive, freeing up their time to focus on more complex issues.
Consistent information: A knowledge base ensures that all customers receive the same information and advice, leading to a more cohesive customer experience.
Improved efficiency: A knowledge base can improve the efficiency of customer service teams by providing them with easy access to relevant information.
Cost-effective solution: A knowledge base is a cost-effective way to support customers, eliminating the need for expensive phone support or live chat systems.
Knowledge Base Tips for Smooth Customer Self-service Experience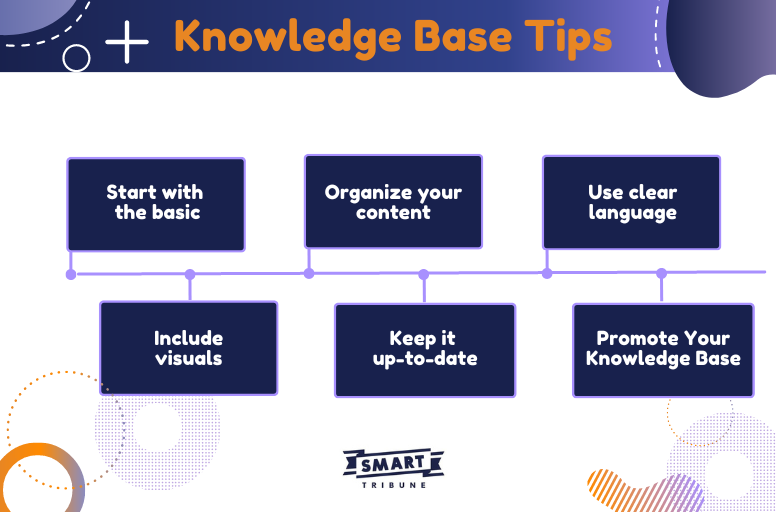 To build a knowledge base that empowers customers to find answers and solutions on their own, here are some tips to keep in mind:
Start with the basics: Ensure that your knowledge base covers the essential information customers need, including frequently asked questions and common issues.
Organise your content: Use a logical structure to make it easy for customers to navigate and find what they need quickly.
Use clear language: Write in plain, straightforward language that customers can understand, avoiding jargon and technical terms.
Include visuals: Use images, screenshots, and videos to make your content more engaging and easier to follow.
Keep it up-to-date: Regularly review and update your knowledge base to reflect changes in your product or service.
Promote your knowledge base: Make it easy for customers to access your knowledge base by including links on your website and in customer communications.
Discover more about How to successfully develop a knowledge management strategy?
Frequently Asked Questions About Knowledge Base Examples
What is a KB article or What is a knowledge base article?
A KB article, also known as a knowledge base article, is a written piece of content designed to provide information about a particular topic or issue.
What type of data is provided in a knowledge base?
Depending on the purpose, a knowledge base article can contain a wide variety of data, including step-by-step instructions, FAQs, how-to guides, troubleshooting tips, best practices, and other relevant information.
Final Thoughts on Knowledge Base Examples
All in all, a knowledge base is a valuable resource for any organization that has a strong desire to improve customer satisfaction and reduce support costs. By providing users with easy access to helpful information, you can empower them to find the answers they need without relying on support from your side.
And we hope by looking at the 100+ best knowledge base examples above, you can have an idea of how to build a knowledge base of yours with Smart Knowlege. Should you have any questions or request, don't hesitate to drop us a line.