The benefits of chatbots in the banking industry and how they can be used strategically to improve the customer experience
More consumers today are choosing to engage with brands and businesses via digital means than ever before. This has been especially the case in the banking and financial services industries. Recently, online banks (aka neo-banks) have made it possible for consumers to open, manage, and transact from their accounts purely online. Their rise has forced so-called "traditional" banks to finally step into the digital age to adopt new technologies and lean into digital-first services that keep pace with today's heightened customer expectations.
Part of this includes making conversational AI chatbots a key element in the digital customer service experience. Not only is this critical for staying competitive in the rapidly changing banking sector, but it's also a proven way to empower customers to be more autonomous, happy, and successful throughout the online customer journey.
In this article, we'll take a closer look at how chatbots in banking can help achieve all this.
What is a conversational AI chatbot?
We won't belabour this point here because we've already talked about the ins and outs of chatbots—and their benefits for businesses of all shapes and sizes—at length elsewhere.
But as a refresher, conversational AI chatbots, like our very own Smart Bot, are automated customer self-service assistants that have the power to answer up to 70% and, as this technology continues to advance, up to 90% of customers' most frequently asked questions. They use artificial intelligence (AI) to understand a customer's search or query intent and then match it to relevant knowledge base content to surface the most appropriate or useful answer to a customer's question. This allows customers to get answers quicker than ever while also being more autonomous in their journey with a brand.
Additionally, they use machine learning to gradually learn how to respond to customer questions more effectively. For example, a newly implemented chatbot may be able to answer only the simplest of questions, like those found in your dynamic FAQ. But over time, they'll be able to learn from their interactions with customers to be able to not only respond with a higher degree of accuracy but also be able to tackle more complex customer inquiries.
Now, what really sets conversational AI chatbots apart from your, let's say, run-of-the-mill chatbots is their ability to carry out a lifelike conversation. In many cases, at least until the chatbot is stumped and, therefore, needs to escalate the request to a living and breathing customer service agent, consumers don't even realise they're talking to a chatbot. Advanced natural language processing has made it possible for conversational AI chatbots to essentially mimic real human interactions, thereby creating a more positive customer service experience.
For this reason, conversational AI chatbots have quickly become a key element in the end-to-end digital customer self-service strategy for brands and businesses across all industries and sectors. However, in the rapidly evolving—and digitally-focused—banking and financial services sectors, smart chatbots are quickly rising in importance as a way to more effectively meet and surpass customer expectations head-on.
Conversational AI chatbots in the banking industry
Until recently, when thinking about banks and financial services companies, the concept of "digital-first" may not have immediately come to mind. After all, these are more traditional industries that, for a variety of (regulatory and legal) reasons, have had to be thoughtful about their use of technology vis-à-vis customer data privacy and security.
But with new online-only entrants making their way into the banking sector, the industry as a whole—especially more "traditional" players in the market—has had to re-think its approach to digital customer service in an effort to stay competitive and create better customer experiences.
A big part of this has included weaving smart customer self-service solutions, like conversational AI chatbots, throughout the digital customer journey. Not only do these help customers get answers to their questions or make transactions (like opening an account) easier and more streamlined than ever before, but they also help a bank's customer service team reduce contact volume and, as a result, provide better customer service to the customers who need it most.
This is especially the case for customers with more complex customer service issues or those that involve sharing potentially sensitive personal (financial) details or information—issues that cannot necessarily be handled by tech solutions alone due to various compliance regulations.
However, banks have quickly learned that customer self-service solutions can be used strategically to amplify the customer service experience in meaningful ways, all of which leads to increased customer satisfaction and long-term customer loyalty.
The primary benefits of banking chatbots
Among the many benefits of deploying conversational AI chatbots in the banking and financial services industries, here are three that immediately come to mind:
Personalise the customer experience: Conversational AI chatbots not only tap into the wealth of information in a bank's knowledge base but can also access pertinent customer profile details that can be used to personalise the customer interaction.

For example, if a chatbot knows that a customer recently opened an account, then it could provide useful information for setting it up, making upgrades, managing simple transactions, ordering credit or debit cards, and so on. It can also determine, based on whether a customer has a personal or business account, what kinds of services to recommend in order to make their banking experience even better.

Finally, for many "retail banks," conversational AI chatbots can be used as an upselling tool to make eligible customers aware of the latest products, promotions, and offers.
Save time and money: There are a lot of different ways to look at the time and cost savings that result from implementing conversational AI chatbots.

From a bank's perspective, for example, chatbots can reduce the need to have a customer service team operating around the clock. For starters, they tackle up to 70% of the most common customer questions on their own—even after hours when customer service agents have gone home for the day. But in the event that a customer question is too challenging for them to address on their own, they can automatically escalate the inquiry to a human customer agent who can respond the next day during normal business hours. This scenario alone can

save banks up to $8B in operating cost savings

.

Additionally, because of a chatbot's ability to handle the vast majority of customer questions, it gives time back to customer service agents to focus on more complex customer issues that require their dedicated time and attention. This is a much better use of their skills and expertise versus simply regurgitating FAQ-related information that can be easily automated using a conversational AI chatbot.

On the other hand, from a customer's perspective, conversational AI chatbots make it quicker and easier to get questions answered and various account management- and transaction-related issues handled with ease. And all without having to hop on the phone to speak to a customer agent. This huge time savings alone can make a positive impact on a bank's overall (digital) customer experience, which as a byproduct can lead to a significant increase in customer satisfaction and happiness.
Collect data to improve customer support: Aside from helping customers get things done quickly, conversational AI chatbots can serve as essential data and feedback collection resources, providing insights that have the power and influence to make your customer experience better. This is because chatbots learn from every interaction they have with customers—to not only improve how they respond to similar inquiries in the future but also to feed information back to the customer service team to drive a clearer understanding of who your customers are and what they need from your business.
44% of consumers would rather communicate with a chatbot than a real person, as long as it could answer questions reliably.

— Source: Humley
6 potential use cases for conversational AI chatbots in banking
As the banking and financial services industries continue to become more digital-friendly with each passing day, it is opening up new possibilities for conversational AI chatbots to play a more central part in a bank's broader digital customer service strategy.
Here are six potential use cases that underscore what's possible with banking chatbots:
1. Send money and monitor transaction history
If you got on the online banking bandwagon a long time ago, you might not necessarily think about relying on a chatbot to help you with simple transactions like sending money. But for all of those less tech-savvy people out there, a conversational AI chatbot can serve as a customer's digital assistant for simplifying and getting the most out of their online banking experience.
Depending on what rules and regulations a specific bank or financial services company have to follow, not every company's chatbot will be able to access customer information in this way. However, for those that can, these chatbots can help customers overcome whatever tech hurdles they have and, in many ways, become a go-to source for sending money or accessing account-related information without having to figure it out for themselves.
Remember, as mentioned above, one of the biggest benefits of conversational AI chatbots is their ability to save customers a lot of time. Managing simple transactions like this through a friendly and conversational interface is a great way to do just that.
2. Review account balances and spending habits
Reviewing account details (i.e. current balances) go hand-in-hand with sending money and accessing transaction history. These are simple tasks that, for customers who can't seem to figure out how to do them on their own, can be easily automated via a banking chatbot.
The more interesting and, dare we say, insightful use of conversational AI chatbots in this instance is that, thanks to their machine learning capabilities, they can provide real-time insights around account activity and spending habits. For example, customers may not realise that around 90% of transactions related to a bank or credit card account are related to food purchases (at cafés, restaurants, and bars). Because each purchase is, more or less, an isolated incident, sometimes it's difficult to see how quickly things add up.
When optimised to not only handle simple requests or transactions but also to provide (hopefully) helpful insights, banking chatbots can become a go-to resource for customers that help them keep tabs on and make sense of their spending habits in a more meaningful way. Who knows, the insights shared by the chatbot could very well push the brakes on a customer enjoying one too many avocado toasts per week.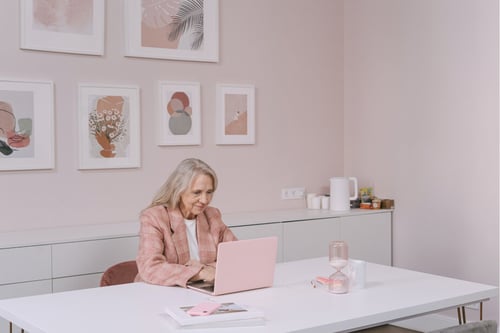 3. Answer FAQ-oriented questions
Because this is, generally speaking, a pretty standard use case for conversational AI chatbots—regardless of the industry or sector—we won't dive too deep here. However, after analysing the kinds of questions banking customers ask most frequently, one thing that tends to pop up often is a request for information related to bank locations or business hours.
Oftentimes, this information already exists somewhere on a bank's website and most likely in the FAQ, but not every website is created equal: This information, believe it or not, isn't always easy to find on all websites. This is what makes banking chatbots a great companion to help customers wade through all of your website's content quickly, easily, and efficiently.
Not only can this be pre-programmed into a chatbot's knowledge base right from the start—which means your chatbot is always prepared with an accurate response—but also, from the customer's standpoint, being able to access this information quickly creates a better overall customer experience that empowers customers to be autonomous in their hunt for information. The end result is greater customer satisfaction, happiness, and, in most cases, loyalty.
And to reiterate something we mentioned above: Your skilled customer service agents shouldn't have to field these kinds of easy-to-automate questions. Instead, they should be focused on dealing with more complex or complicated customer needs. So in this sense, banking chatbots can ease the burden on customer service agents by reducing inquiry volume significantly.
4. Send reminders or suspicious activity alerts
Because banking is transactional by nature, it lends itself to all sorts of reminders and alerts (even if some of those alerts pertain to suspicious activity). Perhaps customers set a reminder on a set date each month to avoid forgetting to pay their rent or mortgage. They might want to get a heads-up before an automatic transfer goes out. Maybe they want to be notified when they've hit a certain spending threshold per day, week, or month. Or finally, they might just want to know when their account may have been compromised by a hacker.
Again, sometimes customers don't know where to set these kinds of alerts and notifications or, more likely the case, they don't really think about it in the moment when they're tackling all of these different transactions. This is where a banking chatbot can be really handy. While helping customers with various transactions, they can ask in real-time, "Would you like to set an alert for that?" or "Would you like to receive a notification when you've hit your daily spending limit?"
The biggest benefit here, as you might imagine, is that these kinds of added-value tasks can both save customers a lot of time and effort and even protect them from potential consequences resulting from missed payments, becoming a victim of fraud, and so on.
5. Support customers with apps and online services
As mentioned before, we know that not all customers are tech-savvy. This becomes even more problematic when a bank overhauls its website or launches a new mobile app. In other words, when things look different or move around, consumers get a bit confused. This is why conversational AI chatbots can be a great first line of defence for when this happens, providing a support system that can help your banking customers work through their various tech issues to get the most value out of the various services you provide.
6. Drive a heightened sense of customer engagement
The more customers can do on their own—and the faster they can get answers to their questions or resolve their issues—the happier they'll ultimately be. While a banking chatbot alone isn't the be-all and end-all of customer engagement, when integrated seamlessly with other elements of your customer service and customer experience strategies, chatbots can help drive increased customer engagement and greater overall customer satisfaction.
This is incredibly important at a time when competition among banks and financial service providers is fiercer than ever before. Failing to provide a stellar customer experience—both online and offline—could be enough to lose a customer for life. So, it's truly up to banks and financial services companies to create myriad ways for customers to get the greatest amount of value out of their (online) banking experience.
Enhance the customer experience with chatbots in banking
Today, brands and businesses of all shapes and sizes, regardless of industry or sector, are competing on the playing field of customer experience. Those that do this well are poised to win customers for life. Those that are still a bit behind, well, they have some catching up to do. But at the end of the day, the question you should be asking yourself is this: How can our business create the best possible experience for our customers across all communications channels?
This is where conversational AI chatbots come into the picture. As an extension of your other customer service efforts and other omnichannel customer engagement strategies, chatbots can offer customers a new—and, in many cases, more efficient—way to get information, manage transactions, and resolve issues on their own more quickly than ever before.
This is one of the reasons why chatbots in the banking industry are starting to gain more attention. For an industry that has, until recently, operated in a rather "traditional" fashion, the banking and financial services sectors have started to realise that in order to stay competitive, they must become more digital-friendly in terms of the kinds of services and support they offer. So, it only makes sense that banking chatbots would naturally become a key element along a banking customer's digital journey, all in an effort to improve the digital customer experience.
Ready to take your bank's digital customer experience to the next level? Check out our 2022 Customer Experience Trends Report today for all sorts of useful tips and insights.