Chatbots are everywhere nowadays, from online banking portals to e-commerce sites and everything in-between. In fact, current estimates suggest that a massive 1.4 billion people use chatbots for sales. 67% of worldwide consumers interacted with a chatbot to get customer support over the past 12 months, and by 2024, Insider Intelligence predicts that global consumer retail spending via chatbots will reach $142 billion (up from $2.8 billion in 2019).
So, why are chatbots quickly becoming a must-have for businesses of all shapes and sizes?
There are multiple reasons. By implementing chatbots, companies can roll out 24/7 customer service at scale without needing to employ more agents. They can remove friction from the buying process, boost sales, gain insights to fuel personalisation efforts, gain better customer interaction, and with multilingual chatbots, serve global markets effortlessly.
Of course, not all chatbots are equally as effective. Some chatbot solutions create unnatural conversations, decreasing the customer experience (CX) and potentially damaging the company's reputation. It's therefore crucial that companies implement leading chatbot solutions—for example, Smart Tribune's AI-powered Smart Bot.
This article examines chatbots for sales in more detail, analysing the seven ways in which they help increase companies' sales.
Chatbots' key features that help businesses increase sales
Many companies underestimate how valuable chatbots are when it comes to increasing sales. While they might not be as charming as your top sales associates, they can serve thousands of customers at once, instantly answering their burning questions on website and social media channels, and automatically picking up on any useful data that can help you turn potential prospects into paid-up customers.
Below, we explore the seven ways in which they do this with chatbots for sales.
1. Generate new leads and gather customer insights
Chatbots use conversational marketing to engage customers—for example, to find out where they are in their buying journey, what they need help with, and more. This means they can quickly qualify leads before redirecting them to the appropriate next steps.
Imagine you run a full-service legal firm handling real estate law, family law, corporate law, human rights law, and intellectual property law. Prospects might visit your homepage but struggle to know where to start, given your wide variety of services and industries.
By employing an artificial intelligence chatbot, your firm can ask visitors what they're looking for. If they just want to browse through your services and expertise, it will redirect them to the appropriate website pages. Or, if they say they're looking to hire someone as soon as possible, chatbots can set up a call with one of your lawyers.
Chatbots for sales can also generate new leads by asking website visitors to provide their contact information, which will then enter them into the sales funnel. From there, the customer will receive marketing materials (such as discount alerts, customer case studies, or more) that will warm them up and increase the chance of them converting further down the line.
Taking the above law firm example, a website visitor might decide they're not ready to hire a lawyer at that moment in time—but they say they'll keep your firm in mind moving forward. Conversational AI chatbots can take their contact details and enter them into your marketing funnel/sign them up for your newsletter, ensuring your firm stays front of mind at all times. Better still, if they revisit the website in the future, the chatbot can welcome them with a personalised message based on what they've already learnt about the prospect, which helps to boost your customer engagement.
You can read more about chatbot marketing in our article: Master Chatbot Marketing in 10 Minutes - Benefits, Cases and Tips.
2. Engage customers 24/7 via conversational support
In today's global economy, customers have more choice than ever before—meaning they won't wait around for you to answer their questions. In fact, responding within 5 minutes of a customer's inquiry increases conversion rates by 100X. Consider that "90% of U.S. customers rate an immediate customer service response as "important" or "very important."
The takeaway is clear: companies can't afford to leave consumers hanging.
By employing AI chatbot, organisations can ensure they respond immediately at all times. This is a game-changing innovation. Companies will automatically provide excellent first-class customer support, even while their customer service team sleeps. Chatbots will engage prospects, redirect them to the appropriate resources/pages, advise them of discounts, and collect key marketing data along the way. Hence, it's no surprise that customer service chatbots have increased customer service satisfaction rates by 24%.
The business impact could be profound. Customers are 2.4X more likely to stay when a sales team solve their problems quickly and 2.7X more likely to spend more when companies communicate clearly. By implementing artificial intelligent chatbots, businesses can ensure they respond quickly to satisfy customer communication needs and clearly at all hours of the day.
3. Answer frequently asked questions
There's nothing more frustrating than employing customer service agents, only for them to spend hours each day answering the same questions repeatedly. Except, when customers have a question, you need to help them resolve it.
Fortunately, this is where AI powered chatbot can help. Arm chatbots with the answers to all your customers' FAQs and let them handle these types of frequent yet mundane queries.
This offers two main benefits. First, sales team will free up your customer service agents to focus on high-value queries, like hopping on a call to see whether you can personalise a product for a customer. Leave human agents to focus on trickier tasks that require nuance, empathy, and a detailed understanding of peoples' needs—and leave the basic FAQ-type responses to chatbots.
Second, customers will receive quick, clear responses. You'll remove any hurdling blocks preventing them from converting, increasing the likelihood they will successfully move along the sales funnel.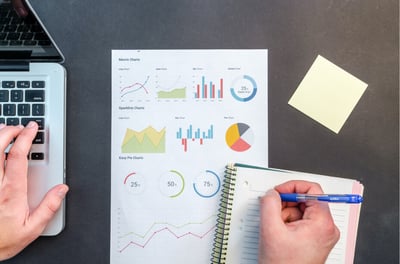 4. Offer product recommendations
Bots offer far more value than merely answering routine FAQs. In fact, they can even act as virtual assistant, proactively recommending products and alerting customers to new discounts/releases. Consider that research shows 47% of consumers would happily buy items via a chatbot.
Imagine a customer tells a chatbot they're looking for a 4-person camping tent that costs less than 200€. The chatbot, thanks to conversational AI, could then redirect them to their selection of camping tents within this price range, highlight which ones have recently been reduced, or even recommend tents which are particularly popular among their customers. This saves the customer from manually finding the right page, scrolling, filtering by price, etc.
In other words, chatbots for sales help customers to reduce their buying process down to just a few clicks.
They could even go one step further by upselling or cross-selling. For example, by suggesting the customer checks out other camping equipment (such as gas stoves, rain jackets, sleeping bags, walking boots, and so on). Customers benefit from a smooth buying experience tailored to their specific needs, while companies increase the likelihood that prospects will convert. Win-win.
5. Provide a personalised customer experience
Customer support agents are fantastic at the human aspects of the job, empathising with customers and building trust. But this doesn't mean prospects and customers only trust customer service agents. Consider that 67% of customers trust the personalised recommendations and suggestions provided through conversational AI interactions.
In fact, chatbots have an advantage over human agents—they can automatically use visitors' account information and past purchasing behaviours to instantly offer personalised recommendations. They provide tailored assistance, saying the right thing at the right time, and leveraging what they know about visitors to provide the most valuable buying experience possible.
Personalisation can have a drastic impact on sales. 91% of consumers are more likely to shop with brands that recognise who they are, remember what they want, and provide personalised recommendations. Meanwhile, companies that excel at personalisation earn 40% more than their competitors, lowering their acquisition costs by up to 50%.
Therefore, it's no surprise that 90% of leading marketers say personalisation significantly impacts business profitability.
6. Reduce cart abandonment rates
Abandoned carts are incredibly frustrating for businesses. Customers have browsed, selected what they want, and added it to the cart—but before they convert, they disappear. What looked like a certain sale suddenly evaporates before their eyes.
Research shows that, on average, 68.8% of all carts are abandoned. In other words, nearly 7/10 potential sales never materialise. There are multiple reasons why consumers abandon their carts. Perhaps the customers thought the extra costs were too high (e.g. shipping and taxes), the site wanted them to create an account, delivery was too slow, the checkout process was too complex, or they simply had to leave and thought they'd return at some stage to complete the purchase.
So, where do chatbots come in?
If the chatbots for sales gathers the visitor's contact details, it can prompt an automated follow-up email encouraging the customers to continue checking out. Or, they can even provide reminders to customers when they next visit the site, alerting them to the items waiting in their cart and encouraging them to convert. In fact, these types of reminders have an 80% open rate (compared to 25% for abandoned cart recovery emails) and 10X higher click-through rates.
7. Sales chatbots can provide prompt customer feedback
Companies must do everything possible to protect their CX. Figures suggest that customers who enjoy a positive CX spend 140% more than those who had a negative experience and are likely to remain customers for five years longer. If companies provide a single poor experience, customers might leave and never return. There's more competition than ever before—so the stakes have never been higher.
Chatbots can check in on customers, asking them about their experience and what they'd like the company to improve. They will gather critical customer feedback that will instantly be relayed to the wider company, showing how the company can boost its CX while highlighting what they're already doing well.
However, some customers might not want to provide lengthy answers. In this case, chatbots can simply ask customers to rank their company's CX by selecting an emoji, meaning customers can provide valuable feedback with just one click.
Get started with chatbots
It's a tough time for businesses right now. The economic climate is taking a downward turn, and competition for consumers' wallets is increasing rapidly. Companies are all trying to do more with less—increasing their sales while minimising spend and effort.
Fortunately, there's an easy way to do this: implementing chatbots. Chatbots for sales provide 24/7 customer service, removing friction from the buying process and gathering key customer data that fuels personalisation efforts. Equally importantly, they free your customer service team up to focus on high-value activities, such as concentrating on more advanced customer loyalty programs to put as many potential customers on the sales funnel.
As Jeremy Gallemard, CEO, Smart Tribune, comments, "Our customers frequently tell us how surprised they are at the all-round business impact of implementing our chatbot solutions. Whether it's increasing sales, customer engagement, customer care, customer retention, or a brand's reputation, chatbots for sales can do it all."
Smart Tribune's Smart Bot can be your sales super weapon in 2022, offering an automated customer service solution, thanks to our sophisticated conversational AI. You can also integrate your favourite social media channels to our customer self-service solutions. Implement chatbots for sales today to increase customer satisfaction and start seeing the results for yourselves. Or, if you want to learn more about how chatbots for sales will benefit your organisation, check out The Definitive Guide to Chatbots (2021).