It's easy to understand that customer satisfaction plays an important and leading role in customer loyalty and there are several ways it can be measured... However, do you really know what your customer needs are, and how to make them happy customers?
The toughest part of this process is determining where to start. Should you send out a customer satisfaction survey or launch market research into what makes your customers unhappy? With a number of years of experience on the topic, we have put together some best practices to help you meet your customer's needs and build customer loyalty to get positive customer feedback.
In this article, Smart Tribune - The Leading Customer Service Software will walk you through:
1. Get to know your customer's needs
2. Develop an in-house customer-first culture
3. Customise the customer experience to meet your customer's needs
4. Optimise the customer experience
5. Measure and improve customer satisfaction
Don't forget to download our latest report about 57 customer service trends to know in 2023 to have more insights for your strategy:
1. Get to know your customer's needs
Use active listening
What is the main quality of a marketer? Paying close attention to their target market. And for a salesperson? Listening and understanding the requirements of their customers. How to satisfy a customer calling into a contact centre? Once again, by paying close attention to what your customers want.
Throughout each step of the purchasing journey, customer satisfaction relies on actively listening to your customer.
Listening to your customer's needs helps to:
Create products or services that appeal to the customer, whilst meeting their expectations;
Optimise customer service relations, because understanding your customer's needs will help you better identify how to resolve their problems;
Anticipate future customer needs.
Keep an eye on client reviews
It is one thing to listen to your customers when they reach out to your customer service team. But customer complaints can also often be expressed via other channels of communication too.
Social media, forums, blog comments, review websites... are all opportunities for customers to express their opinion and their experience with your brand, be it positive or negative. To monitor customer feedback, there exist several tools that can be set up to receive alerts whenever your company is mentioned online.
By getting a complete overview of what is being said about your brand, you will be able to achieve a more holistic vision of your customer's expectations and what areas of your product or service need to be improved to better meet your customer's needs, and have more happy customers.
Centralise client data
Satisfied customers means listening to them first. The next step? Provide them with a quick and appropriate response.
For example, the average ticket resolution time is an important performance indicator in a call centre. How can it be reduced without impacting customer service quality?
Data centralisation is part of the answer. By consolidating customer data through a single CRM tool, it can improve the speed and efficiency in processing support requests. Customer profiles will be easily accessible in just a few clicks containing all the information support agents need to better serve their customers. Not to mention, creating more opportunities to upsell.
2. Develop an in-house customer-first culture to meet your customer's needs
Commit to your brand's values
One of the most important factors between customers and brands is trust. If there is a breakdown in trust, then the customer relationship will either be damaged or lost. You might be wondering, what is the foundation of trust? The answer is that trust heavily depends on the commitments that one makes, maintains and delivers.
To satisfy your customer's needs, you must uphold your values and stay true to your promises. When it comes to meeting customer's needs and customer success, honesty, transparency, and politeness are the best policy.
For example, if you are committed to the environment, it's crucial for your business to combine words with action. Any commitment made to a customer is considered sacred and must be delivered upon.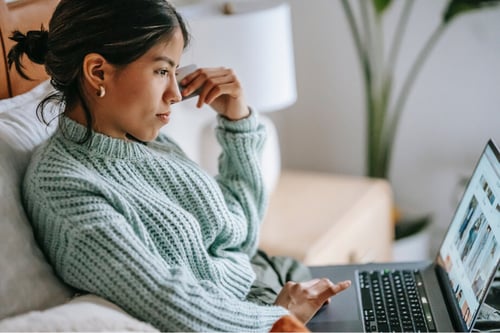 Train team members to be customer-first to increase customer satisfaction
Customer satisfaction and meeting customer's needs, need to be a central pillar in an excellent customer service strategy and be fully embodied by all employees.
Everyone in contact with your customers should adopt a single tone of voice and aim to deliver high-quality customer support.
In concrete terms, companies must formalise their strategy to improve customer satisfaction and make this strategy accessible to all employees. After which, it's about disseminating good practices internally to increase customer satisfaction and create loyal customers.
Customer support satisfaction is a priority
Customer satisfaction begins internally. How can you begin to satisfy your customer's needs if your employees are dissatisfied within the company?
Understandably, it can be difficult to deliver exceptional customer service when you are dissatisfied with your own working environment.
A happy employee who identifies themselves with the values of his company will work harder to satisfy their customers needs.
You can read the article "6 Customer service KPIs you absolutely must measure" to optimise your customer satisfaction rate.
3. Customise the customer experience to meet your customer needs
Make your customer experience customer-centric
The idea of customer-centricity is closely related to a customer-first culture, which has been mentioned in the previous section.
A customer-centric brand will prioritise the value it brings to its customers.
Theoretically speaking, adopting a customer-centric approach means:
Implementing processes and actions to eliminate points of customer frustration.
Systematically assessing the impact

of one's actions on one's customers.
Segment your customers
Not all customers are equal or have the same wants and needs. They don't all react the same way when confronted with the same messages or offers.
A loyal customer expects to be treated in a personalised manner. When support isn't personalised to each individual customer, customers will lose interest in the brand's offering and will perhaps resort to switching to a competitor.
Today, a variety of solutions are available to collect and analyse customer data. By leveraging data and marketing automation, your business can personalise customer interactions and meet each individual customer needs.
The sooner you segment your customer database and tailor your customer support, the stronger and longer-lasting your customer relations will be.
Send contextualised and personalised messages and offers
Customers expect and want a unique and personalised experience; businesses can offer this by:
Collecting and analysing data that allows companies to send the right message to the customer at the right time.
Customer satisfaction is achieved by making each customer feel unique. Personalisation is the best way to build a long-lasting relationship

between a customer and a brand.
Master the customer experience
To personalise the customer experience, you have to segment the customer base according to different criteria. Among these criteria is the customer's position along the purchasing journey.
To do so, the first step is to establish who is your typical customer by creating buyer personas.
Knowing the buyer persona and at which point the customer is on their purchasing journey allows for the personalisation of interactions. For example, the customer will receive offers and communications from the company based on where they are located on their purchasing journey which can help drive conversion rates.
Deliver a seamless experience through an omnichannel approach
The multiplicity of communication channels available to customers to communicate with brands requires businesses to maintain a consistent tone of voice from one channel to another.
To do so, an internal customer-first culture is essential. Moreover, it is also important that employees in contact with customers can access data in a centralised manner.
4. Optimise the customer experience
Understand new customers need
Customer relations play an essential role in customer satisfaction. Beyond the performance of the product or service, a glitch in the relationship can trigger dissatisfaction.
To avoid this, it is essential to adapt to changing customers need and know the customer expectation.
Two important points to remember:
Immediacy: customers want answers fast, in fact, 98% of customers feel that waiting times via phone or chat is too long.
Autonomy:

why waste time contacting customer support when you can solve the problem yourself within a few minutes. 72% of Internet users prefer to find an answer on their own rather than contacting customer service.
Automate responses to common questions
To meet changing customer needs and preferences, the best way is to automate questions and answers via customer self-service solutions.
Dynamic FAQs, chatbots, help boxes, allow customers to find answers to their questions on their own. This allows customer support teams to focus their attention on more complex requests and maximise their customer's satisfaction level.
Customise customer service support
A satisfied customer is a customer who feels valued. To avoid making the customer feel like a number, it is essential to quickly identify them in your customer database after which you will be able to address them by their name. In customer service, quick access to your customer data will be an asset to providing a contextualised and satisfactory response.
Moreover, data centralisation will improve responsiveness and reduce customer support processing times.
5. Measure and improve customer satisfaction
You can't improve customer satisfaction without a well-established strategy. Before launching such a project you must determine your goals and establish a way to measure your progress. For instance, reducing contact rates may be one of your goals. It can also be helpful to examine the specific KPIs which have an impact on customer satisfaction.
To do so, there are several tools, such as satisfaction surveys to collect customer feedback.
Following this step, it will be necessary to translate the customer satisfaction analysis into an actionable plan. This should make it possible to identify areas for improvement and make the required changes according to customer feedback.
Last but not least, measuring customer satisfaction allows businesses to anticipate their customer needs. Rather than waiting for customers to show dissatisfaction, brands must grab onto every single micro-criticism and treat it as an opportunity to improve their product or service and build customer loyalty in customer journey.
Meeting your consumer needs and obtaining customer satisfaction doesn't happen overnight. It's a state of mind which needs to be shared amongst all employees and be reflected through a company's actions. To satisfy customers and get positive customer feedback, you have to take the time to get to know them and understand them, so that you can personalise and optimise every single customer interaction.