While other social media platforms might dominate the headlines, Facebook is still an incredibly powerful tool—especially Facebook Messenger, the second-most downloaded app in the world. But beyond helping users catch up with their friends, Messenger can also be a fantastic way to connect them with businesses and services.
Take Facebook chatbots, for example. By utilising Facebook chatbots, businesses can roll out 24/7 customer support on one of their users' most well-loved social media channels.
This article examines how businesses can leverage Facebook chatbots to boost their customer experience (CX), enhance brand loyalty, and drive increased sales.
Table of content: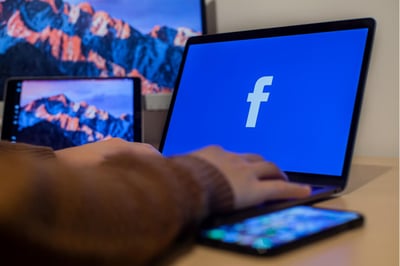 What is a Facebook chatbot (Facebook Messenger Bot)?
Chatbots are automated messaging software that use artificial intelligence (AI) technology to interact with humans in a lifelike manner, leveraging their rich conversational intelligence capabilities.
They do a similar job to customer service agents: answering customer queries, taking contact details to enter prospects into the marketing funnel, suggesting personalised products, and more. Chatbots are available 24/7 to answer consumers' queries—meaning they'll always be on hand, no matter what time it is.
In fact, they can even help nurture leads. Chatbots engage new leads in a conversation to find out what they're looking for, suggest potential products, and warm them up along the marketing funnel. This increases the chances that customers will convert while requiring minimal time, effort, or hassle on the company's behalf.
So, where does Facebook come in?
Facebook messenger is one of the world's leading messaging apps, with 260 million new conversations taking place daily on the platform, and over 2.9 billion people worldwide using the app monthly.
Therefore, it's unsurprising to learn that Facebook is one of the world's leading customer support channels. Facebook messenger is accessible (as most people have it downloaded onto their phone), easy to use, and free. From the customer's perspective, it makes complete sense to use Facebook to contact businesses—after all, they use it to contact everyone else in their lives.
However, businesses might think differently. They already have enough customer service channels to take care of—so why add yet another one into the mix? Surely this will result in a more fragmented, disjointed CX.
But this would be a mistake.
By implementing Facebook chatbots, businesses can be present on Facebook without asking their customer service agents to look after yet another channel. They can provide excellent customer service automation by automatically providing quick answers to incoming queries, secure purchases, and answer location requests (such as where a customer's shipment is).
This offers the best of both worlds. They'll provide enhanced customer service, meeting consumers on their preferred channels. Better still, they won't have to employ new customer service agents or take up existing agents' time and energy.
According to Jeremy Gaillard, Smart Tribune CEO, "Our customers have benefited greatly from implementing Facebook chatbots. They've become an indispensable tool in their customer service armory, allowing them to meet consumers where they're at and provide first-class customer support at all hours."
Best of all, building a Facebook chatbot isn't as hard as it might seem. Simply follow the instructions laid out in Facebook's tutorial, or instead, collaborate with Smart Tribune to build your very own advanced Facebook chatbot system.
Facebook chatbot benefits: Why businesses need to invest in a Facebook chatbot
Chatbots are everywhere nowadays, and for good reason—they're incredibly effective and easily scalable. Companies can roll out top-tier customer service at lower costs while maintaining their existing customer support team.
Agents will be free to focus on high-value, complex queries that require a genuine person-to-person interaction. However, for bread and butter customer service matters (such as locating a parcel or answering questions about your shipping policy), chatbots can take the reins.
Best of all, chatbots whirr away in the background 24/7. They can answer your customer's queries while your customer support team is sleeping, minimising wait time for customers and setting your company apart from its competitors.
But Facebook chatbots aren't just great at servicing existing customers—they're equally powerful when it comes to converting prospects into new customers.
Consider that a company's conversion rate increases by 391% when it answers a customer query within a minute. In today's day and age, consumers don't want to have to wait around for an answer. They'll simply leave your site and go elsewhere if you provide them with a subpar experience.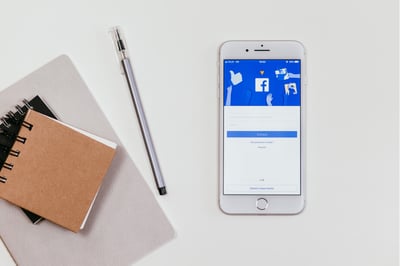 By using Facebook chatbots, you'll instantly respond without needing to lift a finger, demonstrate your customer service prowess, and boost sales. Win-win.
You can also find out about 4 tips to improve your after-sales service.
And that's without mentioning their personalisation capabilities. AI-powered chatbots don't just speak like a human agent—they also listen like one too. In fact, they might even listen more effectively than people.
Chatbots automatically remember everything a consumer says (for example, about what products they're looking for), before using this information to suggest new products going forward. Or, if they see that a customer is based in the UK, for example, and there's a special UK-wide discount, they will promote it to them.
By harnessing all key customer data—demographics, location, buying history, and more—chatbots can provide personalised buying recommendations at scale. They can proactively recommend products or services, acting as automated sales agents that know who to offer which product and when.
Implement chatbots to capture Facebook's 2.93 billion monthly active users, leveraging automated tools that act as both customer support and outbound sales agents. Especially, in such an industry like gaming, imagine your company selling video, PC games, and gaming equipment, Facebook chatbot is an indispensable thing.
Facebook chatbot optimisation strategies to increase conversion rate
Right, let's examine how you can maximise the impact from your chatbot strategy and increase your conversion rate.
- Train your chatbot
- Build brand awareness
- Give your chatbot a personality
- Be proactive, not reactive
- Update them regularly


Train your chatbot
First, you need to train your chatbot. They might be incredibly intelligent—but that doesn't mean they can work things out for themselves. You must first feed the chatbot all must-know information, training it up on the types of questions that consumers ask, the sorts of responses it should provide, and how to raise/flag a query that it can't resolve.
This doesn't have to be a complicated process. Start by defining the specific use cases, outlining what sorts of queries your chatbot will solve for customers. Then, ensure your customers' intents are distinct (meaning your chatbot knows that customers are asking) and that each intent contains many utterances.
Imagine a customer's intent is to buy something. In this case, they might phrase this either as "I want to purchase X product", or "X product buy now". Your chatbot needs to understand both these utterances if it's going to serve your customers successfully.
Lastly, once you've settled on the use cases, defined the intents, and made sure it understands a variety of utterances, you can then inject a bit of personality into your chatbot. Give it a personable, friendly tone of voice (ToV) that makes it as lifelike as possible. Most importantly, do everything you can to make sure it doesn't sound like—and speak like—a robot.
This doesn't have to be a one-time, set it and forget it type of activity. If you implement a chatbot and it's not generating the results you expect, return to this step and reassess how you trained it before trying alternative strategies.
Build brand awareness
Chatbots don't have to answer consumers' questions in a formulaic, FAQ-type style. They can also contribute something new to consumer conversations, building brand awareness and helping turn cold leads into warm ones.
A customer gets in touch over messenger to ask whether you have a certain game in stock. The chatbot responds, saying you do, but that's not all. It also tells the customer that they've got gaming equipment (chairs, controllers, etc.) and boasts one of the world's leading online Facebook gaming communities before inviting them to join. Not only has the chatbot answered the customer's specific query, but it's also told them about the other types of things that it sells and has invited the consumer to be part of a community.
The result? The brand seems stronger and more welcoming than the consumer had imagined. They came looking for a single game—but they left having been redirected to an active community of thousands of like-minded individuals.
Give your chatbot a personality
Your brand identity needs to be consistent across all channels. There's little point in having fun, lighthearted, engaging copy on your website if your chatbots are formal and to the point.
Therefore, make sure to give your chatbot a personality that reflects who you are as a brand. Don't be afraid to inject a little life into its answers. Consumers want to interact with lifelike chatbots—they don't want to feel like they're speaking to a robot (even if they technically are!).
Be proactive, not reactive
Don't just wait for customers to come to you. Companies that derive the greatest return on investment (ROI) from their chatbots recognise the power of being proactive. Reach out to customers, asking them questions (such as how was your buying experience), highlighting new discounts/special promotions, or alerting them to new product lines.
Customers are more than happy to be contacted, provided the messages are valuable and relevant.
Update them regularly
Keep your chatbots fully up to date. If you've got new products, have started a newsletter, or are rolling out a special discount, make sure you train your chatbot to know this—and ensure they start telling customers.
The worst thing is for chatbots to answer customer queries with out-of-date, inaccurate information. Remember to continually assess whether you've done anything differently that your chatbots need to know about, and if so, retrain them accordingly.
Facebook chatbots to inspire you
Unsure how to put your Facebook chatbot to work? If so, the following examples will help get your creative juices flowing.
Sephora
The Sephora Facebook chatbot starts by asking users to complete a short quiz, allowing it to better understand each user's preferences before serving up tips and product recommendations.
Lyft
Lyft's Facebook chatbots help customers arrange rides, and do so safely. When customers arrange a Lyft, the chatbot will send over a photograph of the driver's license and a description of the vehicle, ensuring they don't accidentally get into the wrong car.
Spotify
Spotify's Facebook chatbot lets users discover and share music on the Messenger platform, providing recommendations based on their mood or previous activity. Users can even listen to 30-second clips in the app itself without having to leave and open up Spotify.
It's time to go omnichannel
In today's world, consumers expect omnichannel customer service. So, as well as building and implementing your own Facebook chatbots, you must also provide similar support capabilities across all channels.
To get started, download our free Omnichannel Strategies in 2022 guide for inspiration on how to do this. Or, get in touch to chat with one of Smart Tribune's CX experts.