For internet users surfing the web, interacting with a chatbot or consulting a dynamic FAQ have become more and more common. But what about these practices for customer service on social media? Today, self-service is no longer limited to a company's website. All along the customer journey, including different platforms and social networks, customer relations automation tools are strong allies for companies when it comes to interacting with their customers.
Table of content:
When it comes to social customer service or customer service on social networks, brands can use chatbots (like on Messenger and Instagram). As of 2023, they are also able to rely on Instagram's new official FAQ function. In this article, discover how these self-service tools facilitate social customer care and how to set up an FAQ to improve your Instagram for customer service.
Before the FAQ, the chatbot had an important role on Instagram and Facebook
The success of the chatbot on Facebook Messenger
Since 2016, Facebook has allowed companies to use chatbots to interact with users as a form of social customer care. From the Facebook messaging feature, prospects and customers can send messages to companies in order to get an immediate response, 24/7. Based on decision trees that facilitate resolutions thanks to scenarios previously established or powered by artificial intelligence (AI) and natural language processing (NLP), the goal of the chatbot is to offer a conversational experience that responds as appropriately as possible to user requests.
To create their own chatbot on Facebook, brands have a choice. They can use the official platform or use Facebook developers, but this method requires some technical know-how. Or, to simplify the chatbot set up, there are chatbot development tools like Chatfuel, Botsify, Imperson or Motion.ai.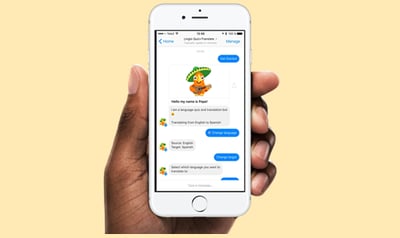 In just one year, the success of chatbots became clear. In 2017, more than 100,000 chatbots interacted with users, effectively freeing up customer service. Today, this number is increasing ceaselessly and the use of chatbots on social networks is no longer limited to Facebook.
The introduction of chatbots on Instagram
As of 2021, Instagram counts 1.22 billion active monthly users (We are Social Hootsuite, Statista). This social network, which bets on photos and videos, has been the playing field for brands since 2010. Consumers have understood this, and in order to ask a question to their preferred brand, they no longer hesitate to use the platform rather than call customer service.
Indeed, brands receive more and more public and private requests on Instagram. Certain requests that are regarded as simple and recurring can be automated. And that's where chatbots come in!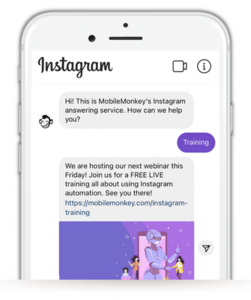 Contrary to Facebook, there is not yet an official solution for developing an Instagram-specific chatbot. But in terms of self-service, nothing is impossible. To use a chatbot on Instagram for customer service, several options are available to you:
Have an active chatbot on Facebook Messenger...and send Instagram users there! To achieve this, all you have to do is add a link to the chatbot in your Instagram profile or set your chatbot settings in the ads manager ("Click to Messenger Ads").
A more intuitive solution is to develop your Instagram chatbot thanks to a tool like MobileMonkey. The beta version of the platform, approved by Facebook, will soon expand!
Wait for the release of the Instagram API in order to use their official feature. No release date has yet been announced, but things may accelerate. At the end of 2020, Facebook announced the fusion of Instagram and Messenger inboxes...is the reconciliation of the different chatbot tools the next step? While we wait to find out, let's explore the new feature promoted by Instagram: the FAQ!

What is the FAQ feature on Instagram?
When visiting a website, what's more pleasant than asking questions and having access to all the answers on a dedicated page? The FAQ responds to user needs in an intelligent and structured way.
The FAQ is a tool that's extremely useful, simple in appearance and incredibly efficient, checking the boxes of autonomy and immediacy for the user. It's therefore not a surprise to see Instagram grab hold of this tool for the automation of customer service.
Indeed, in November 2020, the announcement came: Instagram was working on the addition of a new feature, "Frequently Asked Questions." Brands and content creators could automate certain responses via private message based on predefined questions. The idea is simple:
The brand has the option to define a list of 4 frequently asked questions (maybe more in the future). For example, for a restaurant: "what hours are you open?" or for an e-commerce site, "what are your delivery times?" or for a store, "what's your address?"
By opening the direct message window, the user will see suggested questions. By clicking on one, an automatic response is sent.
Afterwards, spontaneous interactions can follow. The brand can deactivate the feature at any time.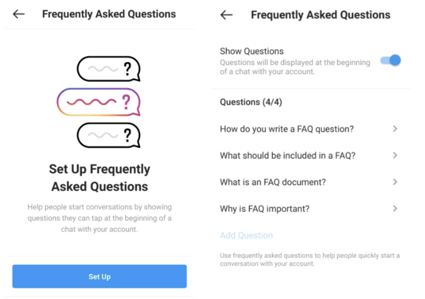 This new feature is a first step in the deployment of social customer care on Instagram. Still far from self-service and autonomous features, this tool is not yet comparable to a classic FAQ and even less comparable to a dynamic FAQ, which we offer at Smart Tribune, but the idea is there: to push users to interact with brands and to obtain responses to frequently asked questions in order to streamline the experience of exchanges with brands.
How to set up the FAQ feature on Instagram for customer service?
It couldn't be simpler and everything is available from your account:
Make sure you have a business account
On your account, on the upper left, click on "menu" (the three horizontal bars) and select "Parameters" > "Business" > "Frequently Asked Questions"
Click on "Configure" and you can add your first question and up to four questions.
You're now ready to deploy your first Frequently Asked Questions on Instagram!
Chatbots and FAQ on Instagram: The keys to success of these 2 automated features
Even if we're only at the beginning of this dash towards self-service for Instagram, the release of new features is a sign of a beautiful future for customer care. Among other things, the benefits to be expected from chatbots and FAQs on this network include:
Improving customer service
It's not enough to have the best products or photos on Instagram in order to enchant customers. You can edit photos and upload top-tier content on Instagram but the customer experience remains the most essential component. Before, during or after a purchase, customer relations is the culmination of the customer experience.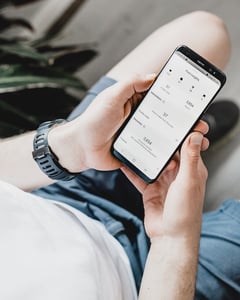 Thanks to conversational chatbots or an FAQ, the company can improve its customer knowledge. Based on frequently asked questions, the company can optimize its responses and demonstrate continuous improvement. This step helps to adapt and personalize customer relations to enchant users through social media channels
Decreasing contact rates
The major advantages of self-service (on Instagram and more broadly on digital channels and social networks) is to reduce the rate of contact for brands and to decrease the number of requests addressed to their customer service. By automating simple and frequent requests (level 1 requests which constitute the majority of demands), customer service is freed up and can finally breathe!
However, these tools don't replace human intervention for more complex or tailored requests. They simply complete the channels of interaction to optimize high-value added solicitations that require the intervention of a customer service agent.
An enriched digital client experience
With the fusion of Facebook Messenger and Instagram Messages, users will be able to favor omnichannel communication with their family and friends and also with brands! The integration of the FAQ and chatbot features will also enrich the digital customer experience, making it more complete and fluid.
Thanks to these innovative technologies, user frustrations and dissatisfaction will be limited. Effectively, chatbots and FAQs respond to the needs of reactivity (or immediacy), autonomy and simplicity. And they allow for the major improvement of customer experience and maximized customer satisfaction!
Higher conversion rates
In the next few years, we should expect a rise in power of Social Shopping, or shopping on social networks. Since 2018, Instagram has allowed companies to facilitate product sales on the platform. Brands can tag a product in a publication, showing a price and sending the user to a descriptive page on Instagram. Then, if they like, to the vendor's e-commerce site.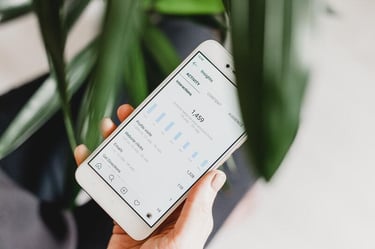 With the boom in Instagram-facilitated shopping, new features connected to self-service are real levers of conversion. Just as dynamic FAQs or chatbots boost conversion on e-commerce sites, the same advantages await on Instagram.
In effect, self-service allows up to a 20% improvement in conversion rates for brands, thanks to self-service features in the purchasing journey. So, are you ready to switch to automation to improve conversion?
As of 2021, almost half (49.3%) of internet users use Instagram (We are Social Hootsuite 2021, Statista). This use is not just limited to the passive consumption of content. Today, customers and prospects don't hesitate to reach out directly to brands on social networks.
To optimize this multiplication of exchanges, chatbots and FAQs on social media are poised to become the new levers of ROI and customer experience for brands. While you wait for their official release, discover what these self-service solutions can bring to your customer relations.